The best ever travel insider tips for a hassle-free holiday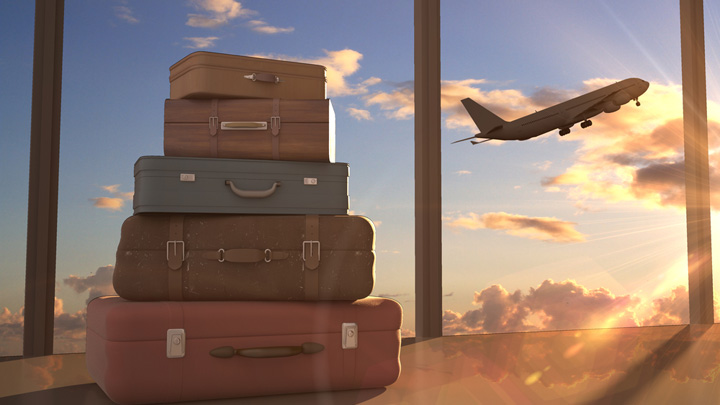 Going away soon? Every traveller would want to know how to make their holiday so much easier and less painful, but not everyone knows all the tips and tricks, especially if you don't go away often.
Here's how to have the best airport and aeroplane experience possible – straight from the experts.
Which of these will you try?
1. Bring your own headphones
The headsets that are given to you on the plane are not new, despite being wrapped up. They are taken off the flight, "cleaned", and then packaged again.
Ad. Article continues below.
2. Remove old flight tags
It seems silly but many people forget to take off their old flight tags, which can hold up the line when you check in. It could also misroute your bag, so get in the habit of ripping them off.
3. Buy and fly on a Tuesday
On average, the cheapest time to buy a ticket is Tuesday afternoon. The cheapest time to fly is Tuesday, Wednesday, or Saturday.
4. Put your pet's name on a carrier
Ad. Article continues below.
Airline staff will try to comfort your pet if it's coming on the plane with you, and having its name on the carrier should help to calm it down – planes are very loud and scary for animals.
5. Bring a tennis ball
Bring a tennis ball with you when you're travelling – it's great to roll under your feet and even under your thighs to keep you from getting stiff/sore.
6. Sink plugs are essential
Carry a universal sink plug, too. It will let you do laundry in the sink or use a bathtub that otherwise won't fill. You'll thank us later!
Ad. Article continues below.
7. Invest in VPN
Sign up for a Virtual Private Network (VPN). It's cheap (about $5 a month) and easy to use. Once set up, it means that you can use public WiFi on your own computer or phone for secure transactions such as banking and booking hotels online with your credit card.
8. Five factors for choosing clothes to pack
Consider these 5 factors when packing clothes and aim to have each piece you bring satisfy at least 3 of them:
Comfortable for daytime, but can be dressed up for the evening
Is appropriate for cool or warm weather
Doesn't show stains
Folds up small
Coordinates well with other clothes.
Ad. Article continues below.
9. Don't think 'what if' about anything in your luggage
Go through your packing list, then take every item and ask yourself why you're taking it. If you start with the words 'what if,' or you only plan to use it once during a long trip, it may not be a necessity.
10. Carry dried gingerroot
To combat motion sickness on a cruise, try taking 1,000 milligrams of dried gingerroot (available in health food stores) before flying.
11. Ball up your socks and underwear
Ad. Article continues below.
Then stick them inside your shoes – this saves space in the rest of your bag.
12. Download guidebooks to your phone
Use the Kindle app or even just your Kindle to save weight, space and money.
13. Check your plane's seating configuration
Before you get on board your flight and you want to have a sticky beak at what type of plane you have, check out seatguru.com, which has up-to-date seating charts for every single flight in the world, and tells you which rows don't recline and rates the seats based on reviews.
Ad. Article continues below.
14. Take a power board
This is my number one travel tip! Take along a power board – you'll be thanking us later. Instead of having to charge one thing at a time with your travel charger, charge 5 or 6.
15. Minimise jet lag 
Jet lag can really knock you about and takes about a day to adapt, or longer. You can cut down on this recovery time by sleeping more before your trip, as well as shifting your meals and bedtime closer to those at your destination. This takes some forward planning but there are apps that can help, such as Jet Lag App.
Do you have any other tips to share?