The best cycling holidays for over 60s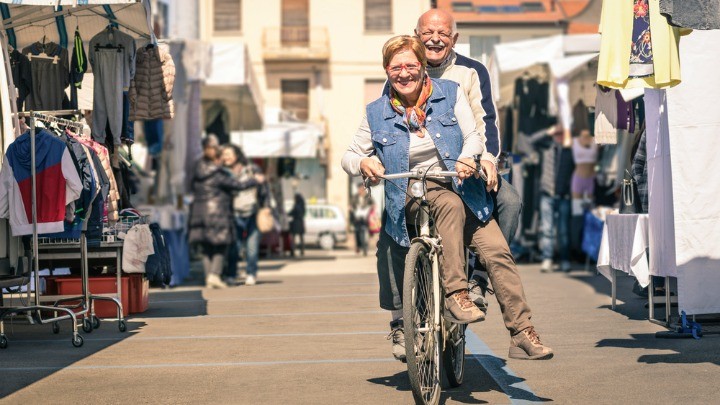 You know the saying: you can't help getting older but you don't have to get old, and it rings true with holidays too. While cruises and relaxing holidays are great, over sixties don't need to be boxed into these kinds of getaways all the time.
For those who want to get out and get active, cycling holidays are a fun and exciting option that allow you to move your body and see a new country from a totally different perspective.
We've compiled some of the best cycling getaways for over sixties with a great mix of low-key and light adventure tours for you to enjoy and explore.
Pleasure cycling, Italy
Imagine riding through Tuscany and stopping for lunch in a small village, or cycling through vineyards and pausing to sip on the local wines… If this sound like your idea of a good time you might want to consider a bicycle tour through stunning Italy. You can choose easy flat-ground tours or something a little more challenging for the more adventurous. Ciclismo Classico is an American company that organises luxury cycling tours for those who want to live it up in style, with tours that include both accomodation and bike hire. You can choose between relaxing or adventure-filled tours and many of the rides include stopovers at museums and wineries, so you won't miss out on any of the Italian fun!
Ad. Article continues below.
Winter cycling in Andalucía, Spain
Winter is the perfect time to cycle through Andalucía as its southern location provides a warmer season than most of the rest of Europe. Temperatures in the area can reach 20 degrees in January, so you'll be able to make the most of the daylight hours without getting hot and fussy on the back of a bike! There are a number of different avenues you can take with a range of companies providing tours through the region. Take in the Sierra de Grazalema national park with relaxing rides and choose from self-catered or B&B style accommodation for a well-deserved rest at the end of the day. Andalucian Cycling Experience offer tours through Andalucía and cover a range of budgets.
Bike yourself around France
If tours aren't really your thing but you'd still love the chance to get on a bike and head off around Europe, try jumping aboard in France which is known for being a bike-friendly country. France's tourist board has a special accreditation called Accueil Vélo, or Cyclists Welcome, just for cycling tourists and makes it easy to get around. You'll notice the Accueil Vélo symbol on many hotels and accomodation venues, all of which will have secure places to store your bike for safety. You can easily take a bike on the Eurostar, meaning you can travel with your wheels across the country and hop off wherever you want to explore further.
Cycle through quintessential Cottswold
The cooler climate in England makes it perfect for a cycling holiday. You can explore Stratford-upon-Avon where William Shakespeare lived and cosy up by the fireside in local pubs and B&Bs. If you're heading over in Autumn, you can take in the changing leaves as they turn from bright green to honey-hued yellow and soak up the countryside and historic villages. Macs Adventure offer a range of cycling tours through Cottswold, where you can choose from different price ranges and difficulty levels to perfectly suit you. To save you the extra hassle, they'll even deliver your bike directly to your accommodation!