Seven ways retirees can travel the world for free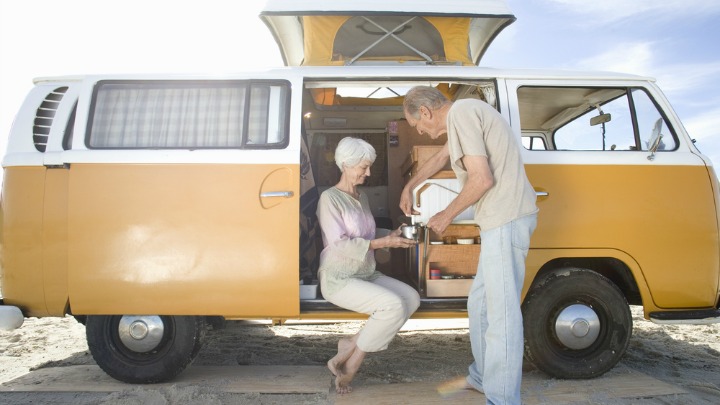 Travelling might be a great investment into personal growth and wellbeing, but not everyone can afford to travel to France for the summer or to Canada to experience a winter wonderland.
If you're on a budget but still want to see the world, then take a look at these eight ways you can travel the world for free.
Read more: How to pack 100 items into your carry-on (VIDEO)
1. House sitting
One of the biggest costs you're likely to come across during your travels is going to be accommodation. Take that expense out of the equation by becoming a house sitter and staying at different properties, free of charge. By organising to become a house sitter, you literally take care of someone else's property while they are away. You may have to do some tidying up, or even take care of the pets, but your accommodation will be completely free otherwise.
Ad. Article continues below.
2. Couch surfing
Another way to travel the world for free as a retiree is to do some couch surfing. CouchSurfing.com is a place where people can invite travellers to stay in their homes with them for free. The host is often willing to show the guest around, and introduce them to the best parts of their home city or town, too. You might not have the same level of comfort or privacy as you would have if you were to stay in a five-star hotel, but if budgeting your holiday expenses is a priority and you want to travel the world for free, then this is a great option.
3. Volunteering
If you love to meet new people, and think you've got a pretty handy skill that could benefit others, then why not try your hand at volunteering. You might want to become a volunteer English teacher, for example, at a local school. Often these programs provide boarding, so not only is it a great way to give back to the community, but it's another way to travel the world for free and feel good about it, too.
Read more: Six ways you can afford to travel during retirement
Ad. Article continues below.
4. BlaBlaCar
If driving through the Italian countryside is on your buck list, but you just don't have the budget for all the petrol you'll need for your trip, then there are ridesharing options that will help you do just that for free. BlaBlaCar.com is one ridesharing website that allows you advertise your spare seats to people who need a ride. They pay for the petrol, you drop them off, and you get to cover more ground in your destination.
5. WWOOF
For those who fancy themselves a bit of a green thumb and who'd like to learn more about the sustainable practices of a vineyard in Italy or a farm in Spain, then WWOOFing might just be for you. WWOOF inspires people to live and volunteer on organic properties around the world. Accommodation and food is included and the only thing you have to do is get your hands dirty and learn about organic and sustainable ways of living.
6. Hitchhike
Ad. Article continues below.
It might sound dangerous but there are many people who use hitchhiking as their main method of transportation while travelling around the world. It might be considered to be much more risky than many other methods of travelling, but it's also a great way to meet and connect with the locals as you go. If you're game, that is.
7. Become a travel blogger
It's not for everyone, but travel blogging can lead to some travel invitations from hotels and tour operators around the world. It's not necessarily free, because there is all the hard work that it's involved behind the scenes, but it can complement your travel lifestyle if that's something you're working towards.
What are some other ways to travel the world for free? Let us know about your own experiences in the comments section below.