Revealed: Which former PM is spending the most taxpayer money?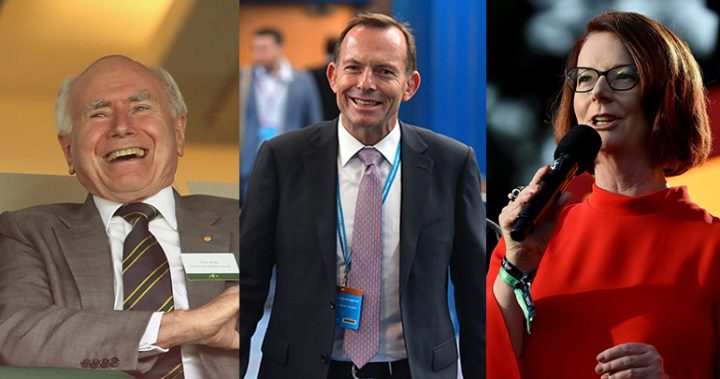 They may no longer be in charge, but a former Australian Prime Minister is financially set for life – especially when it comes to travel expenses.
In just the first three months of the year alone, former PMs billed the taxpayer nearly $300,000, The Australian reports.
The biggest culprit is John Howard, who spent more than $72,400 for flights, transport, office facilities and administration from January to March 2017.
Tony Abbott, the only former PM still holding a parliamentary position, came in second at $61,460, followed by Paul Keating at $61,460, Kevin Rudd ($38,915) and Bob Hawke ($38,165). Julia Gillard claimed the least at $31,394.
Last year, the six former Prime Ministers spent $1,436,460 between them.
Ad. Article continues below.
The figures were revealed yesterday by the new Independent Parliamentary Expenses Authority, established after recent travel expense scandals. It will continue to release quarterly updates on the expense claims of current and former politicians.
"Australians are entitled to expect parliamentarians spend taxpayers' money wisely, appropriately and accountably," said Special Minister of State Scott Ryan.
"The Turnbull Government is undertaking the most comprehensive reforms to federal parliamentarians' work expenses in a generation."
"More reporting means more opportunities for the public to understand how parliamentarians spend money in their offices and for travel purposes."
While former Prime Ministers are spending big for travel, the taxpayers are now paying significantly less for former MPs. They charged a collective $7,639 this year for travel before the "Life Gold Pass" entitlement was axed.
Ad. Article continues below.
For all the recent changes and improved transparency, travel entitlements among standing politicians continue to be a hot topic among political commentators.
Last week Foreign Minister Julie Bishop faced criticism for using taxpayer-funded travel to attend her fourth consecutive AFL grand final, which she stated were "within parliamentary entitlements". 
"I support political leaders — the prime minister, Bill Shorten and others — attending the AFL grand final to show our support for this game and for the organisation," she said.
Should taxpayers foot the bill for former Prime Ministers' travel expenses? Are you happy with this new transparency around politicians' travel claims?