Trump praises 'friend' Turnbull's immigration plan after meeting with wives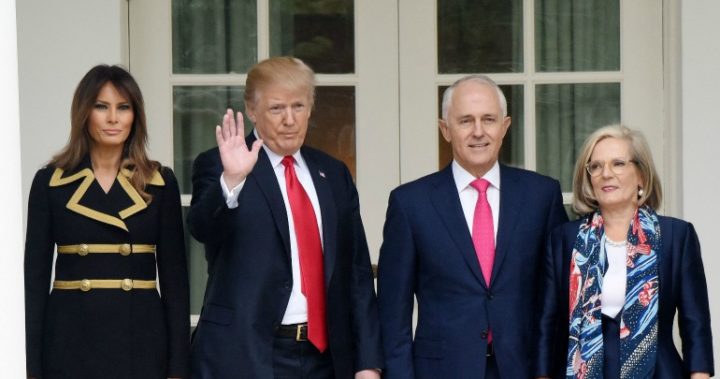 Donald Trump praised Australia's immigration plan in a gushing speech as he met PM Malcolm Turnbull and his wife Lucy at the White House.
The couples sat down for a warm chat inside, with photos showing both leaders and their partners dressed to impress for the long-anticipated meeting.
While Melania failed to flash a smile, she remained by her husband's side and stunned in a knee-length black and gold-trimmed jacket. Meanwhile, Lucy opted for a stylish suit and colourful scarf for the visit.
And speaking at a press conference shortly after, US President Trump took the opportunity to praise the US' close "friendship" with Australia, and revealed his dream to follow the current immigration plan Down Under.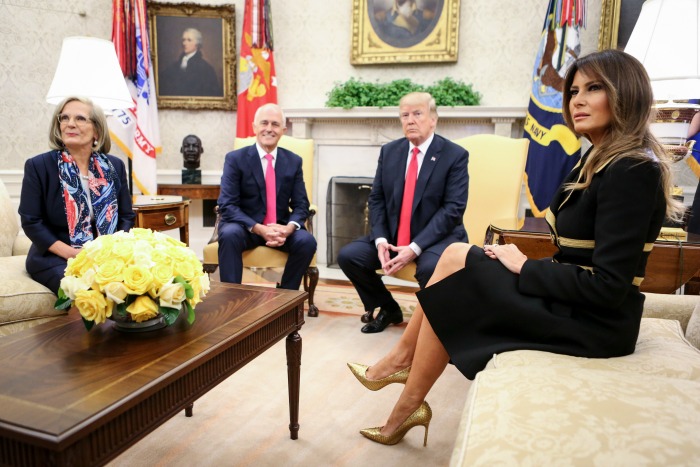 "I'd like to congratulate you on your immigration reforms and on Australia's merit-based immigration, that protects the interests of Australia and its people", he said to Turnbull. "Thats the way to go. Here, we're working hard to do the same, and we'll hopefully follow in your footsteps."
Both leaders spoke of their close bond, with Trump calling Malcolm and Lucy his "friends", while Turnbull added: "Lucy and I would like to thank you and Melania for your generous hospitality and friendship… You are our most important strategic and economic partner."
Trump went on to thank Turnbull for his thoughts and condolences following the recent horrific school shooting in Florida, which left 17 dead and several injured.
Ad. Article continues below.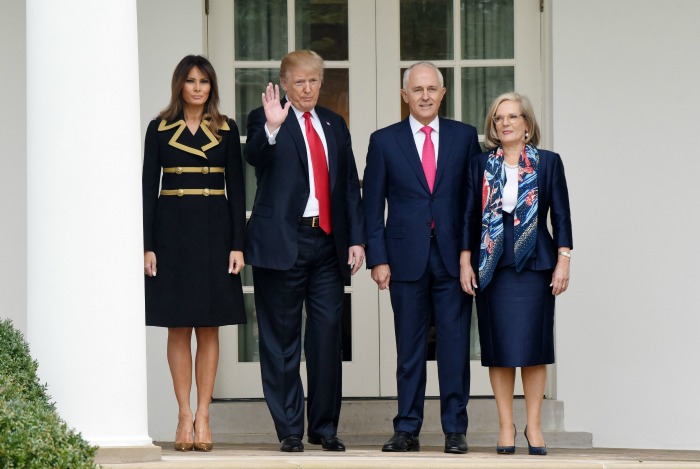 "I want to thank the prime minister for offering his condolences. America is grateful of the support of our friends in Australia, and friends they are," he said in front of a room of reporters. He then spoke himself of the "tragic loss of 17 precious lives and all those injured".
Both Trump and Turnbull insisted that Australia stands with the US against Korea's nuclear threats, as well as ISIS, who Trump says are now "on the run".
Ad. Article continues below.
He added: "Australia remains a key market for US defence products – and we have the best in the world, so you have very good taste."
Finally, thanking Trump for naming a new combat ship the USS Canberra, Turnbull said it was a "great example of 100 years of mate-ship". He added: "What a great symbol of our alliance and our shared security endeavours, what an extraordinary statement of commitment."
Read more: Tony Abbott calls for cut to immigration numbers to Howard-era levels
It comes after former prime minister Tony Abbott hit out at the current immigration plan, and called for major cuts – insisting it's necessary to ease up pressure on housing and jobs.
What do you think of the leaders' speeches to each other?