Tony Abbott says British settlement of Australia 'a very good thing'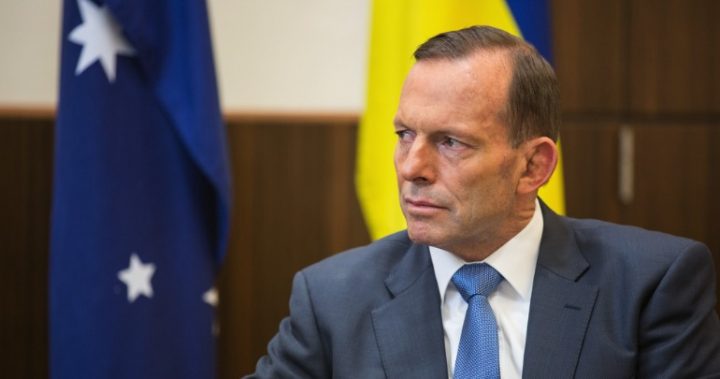 Tony Abbott has described the British settlement of Australia as a "very good thing", while slamming opposition leader Bill Shorten for remaining on the fence over the date of Australia Day.
The former prime minister hit out at Shorten for not standing up to "extremists in his own ranks" in an angry radio speech, before insisting all Aussies "on balance" could celebrate British settlement. He went on to say the country would not be improved by "wallowing in a kind of endless carping self-criticism."
"British settlement was a very good thing, it wasn't good immediately for everyone but the country, the modern Australia that emerged from British settlement stemming from the 26th of January 1788, is something that all of us on balance can and should be proud of," Abbott told 2GB radio.
It comes after Shorten said on Thursday he supported Australia Day staying on January 26, but also understood Indigenous Australians discussing the possibility of changing the date.
Abbot claimed this ambiguity meant he wasn't ready to run the country.  He added of the fellow politician: "Why are these people so embarrassed about our country? I think there's been a deafening silence from the Labor Party… they've tried to have a bet each way which is so typical. We must work… to make ourselves better but we don't do that by wallowing in endless, carping self-criticism."
Ad. Article continues below.
Earlier, PM Malcolm Turnbull appeared on the same radio show to urge Shorten to speak out on the ongoing debate over Australia Day, The Australian reports.
Turnbull claimed it was a "test of leadership" for Shorten, and told 2GB radio: "He [Shorten] says that he supports Australia Day, he says that he supports Australia Day on January 26, well when is he going to demonstrate that? When is he going to ensure his party backs him on this issue?"
Labor frontbencher Linda Burney recently suggested replacing the Queen's Birthday with a national holiday to celebrate Australia's Indigenous heritage.
Read more: Third of Aussies don't know why Australia Day is celebrated on Jan 26
As debate continues to grow around Australia Day and whether the date should be changed, a new survey has revealed more than one third of Australians don't know why festivities are held on January 26.
Ad. Article continues below.
The survey, conducted by The Australia Institute, quizzed 1,417 Australians about their views on Australia Day and their knowledge surrounding the national holiday. According to the research, most respondents couldn't name the historical event that occurred on Australia Day.
Do you think Australia Day should remain on January 26, or change to a new day?
With Facebook removing news sites from your feeds we ask that you sign up for Starts at 60's emailers here. And to keep us on your wall, join some of our new Facebook groups and clubs:

News Junkies Club – Australia
News Junkies Club – USA 

See news on the change and links to all our other clubs and groups here.