Kim Beazley says Kevin Rudd's media obsession cost him top job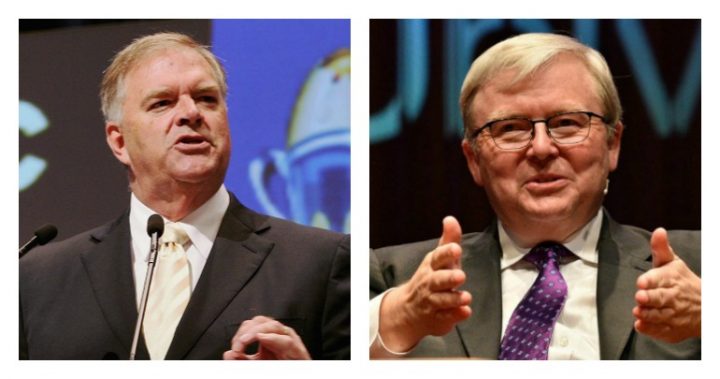 It appears there's no love lost between Kim Beazley and Kevin Rudd.
Beazley has accused the former PM of being obsessed with the media, calling him "impossible" and saying he was unable to properly govern because he was too focused on making news headlines.
Fairfax reports that Beazley made the remarks at a media conference held to launch the cabinet papers last month.
"Rudd was impossible," Beazley said.
"He was impossible again when he became prime minister, because of his inability to operate other than on the basis of one story a day."
Ad. Article continues below.
The former Labor leader said the Rudd government "atrophied" and couldn't focus on "getting things done" because they cared too much about getting a story in the papers.
"He just couldn't govern on that basis," Beazley said.
"[All federal] governments since have been rather like that anyway."
The men have had a strained relationship in the past, with Rudd successfully challenging Beazley in a Leadership ballot in 2006.
It came after months of poor poll results for Beazley and marked the end of his political career.
Ad. Article continues below.
Rudd went on the win the 2007 Federal Election with a campaign that focussed heavily on social media attention and reaching the younger generation through Twitter and Facebook.
It was the beginning of a tumultuous decade for the Labor Party, which is still struggling to shake off the shackles of the past.
Following her own demise as prime minister, Julia Gillard expressed her regret in teaming up with Rudd to bring down Beazley as leader.
Did you think Kevin Rudd was a good prime minister? Do you think politicians focus too much on media and not enough on policy these days?