'I won't cop it': Tony Abbott hits out in scathing op-ed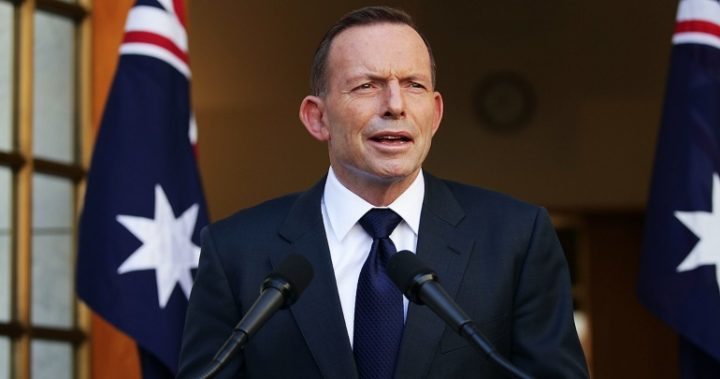 While the prime minister's away, Tony Abbott will play.
The former PM has written a scathing opinion piece, published in The Australian on Friday, demanding respect from his ministerial colleagues and saying he won't cop criticism from people who only have jobs because he allowed it.
The oft-maligned Liberal backbencher was caught in a public spat this week with several ministers over his calls for reduced immigration rates, with Treasurer Scott Morrison and acting-PM Mathias Cormann essentially telling him to keep his trap shut.
"One thing I am not going to cop is gratuitous criticism from ministers who are only in government because I led them there. It is the prime minister's right to choose his ministerial team and, given some of the policies of this government, I'm happy to serve on the backbench," Abbott wrote.
He criticised his colleagues for not bothering to read his speech on immigration and said if the government had its priorities right it would listen to him, a man "who knows more about winning elections than anyone in the parliament".
Ad. Article continues below.
"You'd think a government that's lost the past 27 Newspolls might be curious about how it could lift its game," he wrote.
"You'd think a government that has too few ­policy differences with Labor might consider a change of ­emphasis that would make clearer the choice of who's really on the voters' side. But no, ministers have gone out of their way to attack a colleague who knows more about winning elections than anyone in the parliament."
On Thursday, Abbott and Morrison hit out at each other in separate radio interviews about immigration. Morrison said Abbott's plan to cut immigration levels to those last seen in the Howard-era would be like cutting "off your nose to spite your face".
He added that Abbott's proposal would cost the economy around $4-5 billion in the next four years.
However, an unyielding Abbott says the country can't let Treasury decided what's in its best interest.
Ad. Article continues below.
He told 2GB radio host Ben Fordham: "Scott's problem is he's been captured by his department. Treasury is always in favour of more migration. The point I make is we cannot let the treasury's rules determine what is in our long term and medium term best national interest. We cannot let the tail wag the dog, so to speak."
According to Australia's official parliamentary library, the migration program's planned intake rose from 74,000 to 140,000 per year between 1996 and 2007, when Howard was in power, with the annual rate sitting at around 110,000 for most of that period.
While they rose sharply under Kevin Rudd's Labor government — from 152,800 to more than 190,000 in 2009 — they fell again following the global financial crisis.
Abbott has complained that numbers are once again on the rise and says the country to slow immigration until it gets a handle on stagnating wages and increasing house prices.
What are your thoughts on this? Are you glad Abbott's speaking out? Or should he stay quiet and let senior government do its job?