Former PM Bob Hawke lashes out at Malcolm Turnbull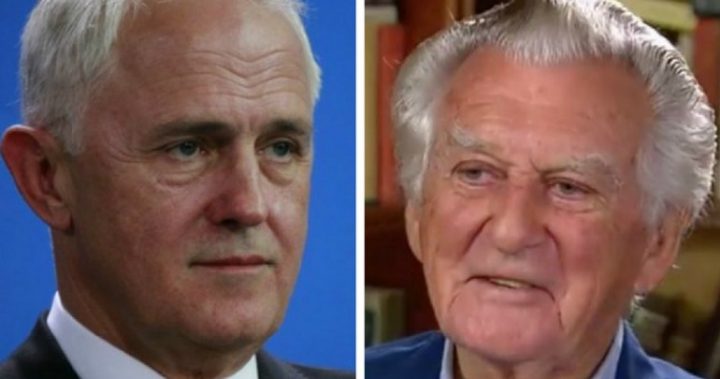 He's just celebrated his 88th birthday, but that doesn't mean former prime minister Bob Hawke doesn't have opinions on the current state of politics in Australia.
On Friday, Hawke answered a number of questions from the floor as he attended the Woodford Folk Festival.
Complete with a Hawaiian shirt and a can of beer, reports suggest that the former politician was ready to answer anything and everything.
Read more: Bob Hawke suggests today's leaders take a leaf from his book
It wasn't long before he took aim at current Prime Minister Malcolm Turnbull after one member of the audience asked what advice he would give to the current leader.
Ad. Article continues below.
"Apart from resign?" The Australian reports Hawke saying.
"Look, Malcolm, you may be ashamed of what you did, and probably have some reason to be, but that's behind now. You're the Prime Minister, you've got the responsibility; put any feeling of shame behind you, get on with the job and, particularly, see if you can get some bipartisan understanding with Bill Shorten … about important issues, particularly climate change."
Read more: 'I was very crook': Former PM Bob Hawke reveals near-death experience
He also suggested that Turnbull felt shame about the way he came into power.
"Whether shame is too strong a word, I don't know, but there's some sort of feeling of that there," Nine News reports the former leader saying.
Ad. Article continues below.
During his talk, he also spoke of the possibility of Australia becoming a Republic.
He suggested that the only way it would happen would be when Queen Elizabeth II's reign ends.
"I believe the Australian people have an affection for the Queen and so they should have," he said.
"They think a vote for the Republic would be a kick in her ancient dentures."
Hawke concluded his speech by singing 'Waltzing Matilda' with the audience.
Ad. Article continues below.
It's not the first time he's made news in recent times.
Read more: Blanche d'Alpuget reveals struggles of love-affair with Bob Hawke
In November, he suggested in an interview that today's leaders should take a leaf from his book.
Hawke received the highest-ever approval rating during his time as PM with 75 per cent. The only PM in recent times who has come close is Kevin Rudd.
He also revealed that he nearly died earlier this year and was so close to death.
What do you think of Bob Hawke's comments? Are you a fan of him?