Brigitte Macron addresses controversy around her relationship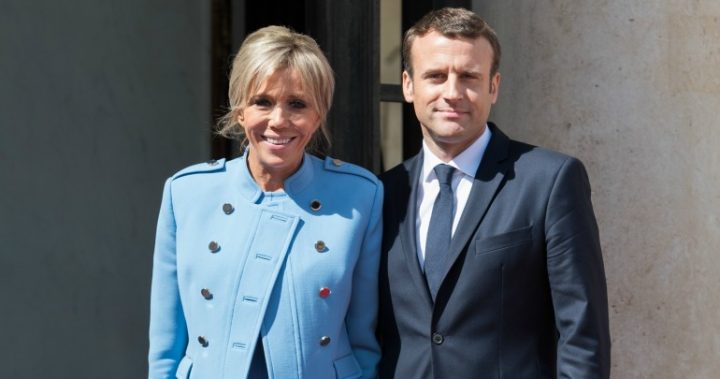 France's first lady Brigitte Macron has given her first tell-all interview since her husband took office earlier this year.
Ms Macron opened up to Elle France and addressed the controversy surrounding her relationship with President Emmanuel Macron – most notably the 24-year age gap between the pair.
She said the couple liked to joke about the unique nature of their relationship and didn't feel like the media's portrayal of their marriage was accurate.
"Emmanuel's only fault is that he's younger than me. When I read things about [us], I have the impression I'm reading someone else's story.
"Our story is simple … of course, when we're having breakfast together, there's me with my wrinkles; he with his freshness, but that's the way it is. If I hadn't made the choice to be with him, I'd have been missing out on life."
Ad. Article continues below.
The couple met when the now-president was a student at the high school where Ms Macron taught. The first lady was married with children at the time and eventually left her husband to be with Emmanuel after he graduated.
She said her only regret was the pain she caused her two children.
"In any case, the separations always do damage," she said.
Ad. Article continues below.
"Children often suffer. I know that I have harmed my children, and that is the thing that I reproach myself the most. But I could not help it. There are times in your life when you make vital choices."
When asked if she was surprised to find herself in the Élysée, she replied: "I'm so used to extraordinary things happening with Emmanuel that I wonder what the next adventure will be. And it's been like that for 20 years," she said.
Ad. Article continues below.
While the couple enjoyed overwhelming popularity at the beginning of the presidency, they have faced backlash over their plan to give Ms Macron an official role as first lady.
France does not have a first lady under the constitution, but the president made clear he wanted things to change for his wife.
The move sparked backlash, particularly because it meant Ms Macron would receive a taxpayer salary, and saw 275,000 people sign at petition against the idea.
The Guardian reports the Élysée is yet to make an official announcement on the issue, but Ms Macron has assured the public her role will be purely social and not political.
What do you think about this relationship? Would you be comfortable if your child married their teacher? Are people too critical of unconventional relationships?