Paying for the privilege and the Devil's Bridge [Rogue Nomads]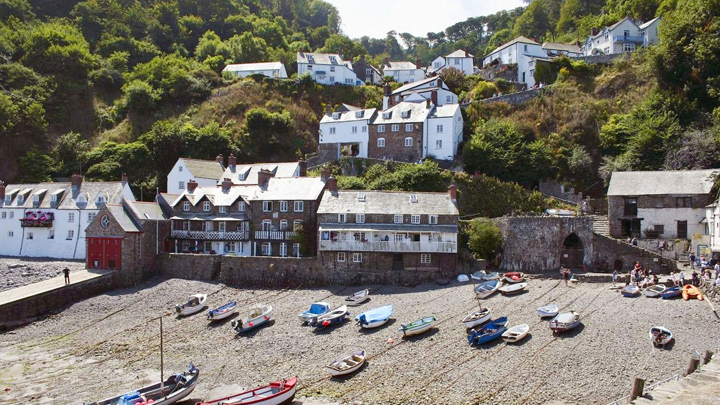 This is part 20 of Dee's grey nomad adventure around Europe. To read her previous instalment, click here
…when we had to pay to visit a village and walked over the "Devil's Bridge"….
Sunshine?! To take advantage, we took a trip to Clovelly, which is set into a steep hillside and is one of the most famous villages in the world. It cost us £7 each to get into the village, but it was worth it.
Ad. Article continues below.
The village has a single cobbled high street which winds its way down the hillside to the ancient Clovelly harbour, through traditional whitewashed cottages festooned with fuchsias and geraniums – the street dropping 122m (400ft) in 0.8km (half a mile) as it winds its way through Clovelly's 16th century cottages to the harbour.
No traffic allowed – you understand why when you visit! The streets of Clovelly are too steep for motor vehicles, so for centuries donkeys were used for getting up and down the street. Donkeys still live at the the top of the hill where children can have a donkey ride in the summer.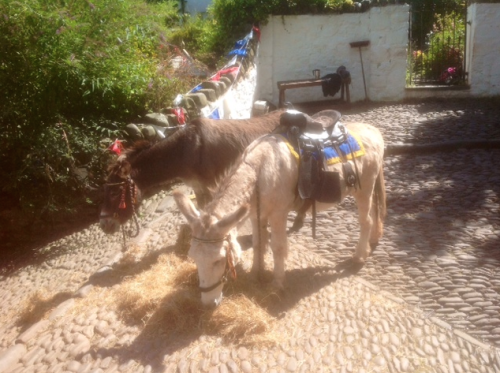 Clovelly donkeys
Ad. Article continues below.
It's not as commercialised as you might expect, as people do live there; in fact there's no holiday cottages allowed at all in the village. The village is part of a large estate and they are all rented cottages. It's also good to watch the short film in the Heritage Centre to get a glimpse of the history of the village.
As we walked down the cobbled street made from pebbles moved from the beach (so very uneven), I noticed sledges outside a number of cottages. It seems that all goods, from groceries to large items, are delivered by sledge! I wouldn't recommend this walk on a wet day, and certainly not if you have any problems walking! It's been there for hundreds of years, and the little fishing harbour used to shelter 60 fishing boats. Now with the decline of the herring industry, there's a handful of boats there.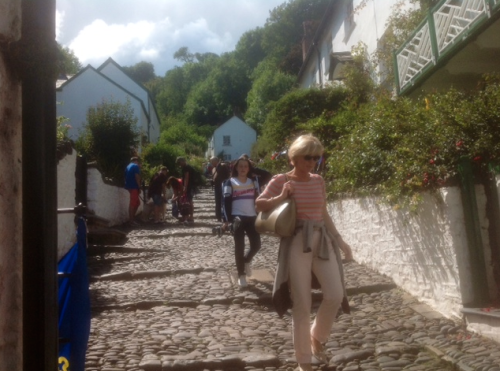 Clovelly main street
Ad. Article continues below.
We managed the long walk down, taking frequent breaks. The harbour at the bottom was a delight and we sat there for quite some time, people watching with our ice creams. We were quite weary and baulked at the thought of walking up the hill, so we took advantage of the Land Rover ride up: costing £2.50 each so the driver has a lucrative little business there! Good on him!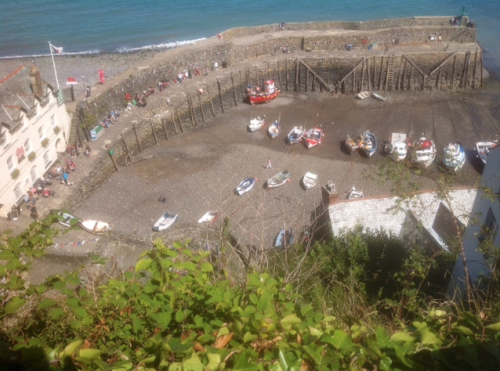 Clovelly Harbour as we walked down
Ad. Article continues below.
Next day we packed up and left our house sit, saying a sad farewell to the dogs and we had a short drive to the middle of Exmoor, near Exford. We had already phoned to check that the field wasn't bogged, as we'd had so much rain, and was assured that all was well, and our caravan wouldn't sink up to its axles in mud!
Exmoor is a National Park, and as the guidebook says "has a variety of landscapes within its 267 square miles (692 square kilometres). A unique landscape of moorland, woodland, valleys and farmland, shaped by people and nature over thousands of years. Where high cliffs plunge into the Bristol Channel, and cosy pubs and tearooms offer delicious local produce".
I can vouch for that! Once settled in a huge field, we drove the short distance into Exford to find tourist information, and it just happened to be in the local post office and general store. The owner of the shop gave us a few tips of places to go, as we assured him we didn't want to go to a tourist trap.
Ad. Article continues below.
So off we went, firstly to Tarr Steps, which is a medieval clapper bridge over the river Barle which spans the fifty-five foot river in seventeen spans of flat stone. It is one of Britain's best preserved examples of a clapper bridge, derived from the Latin 'claperius', meaning 'pile of stones'. It is constructed out of stone slabs supported on stone piers, which stick three feet out of the water when the river is at its normal level.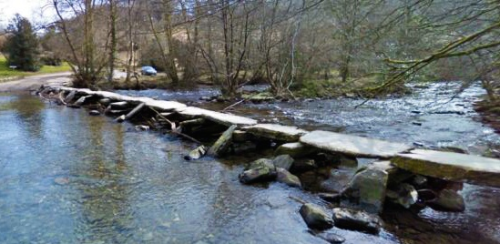 Tarr Steps, Exmoor
Ad. Article continues below.
Legend has it that the devil built the bridge at Tarr Steps and had rights over sunbathing on the stones. Anyone who tried to cross the bridge, it was said, did so at the risk that they would be killed by the devil, who swore an oath to crush anyone who passed from one side to the other. It is claimed that locals once sent a cat across the bridge to test the myth – and the animal was vaporised. Only after confrontation with the local parson is the devil supposed to have withdrawn the threat.
It was a long walk from the carpark, downhill, but once we arrived we found it to be very picturesque. I commented that I thought it amazing that the steps ….like giant's stepping stones, were still there and a passerby who heard me said that the stones, and they are huge, got washed downstream in 2013 by a 10ft surge of water. But the underneath of each stone is numbered so they reconstructed it!
We drove on to Dunster, and the castle looked magnificent, such a crowded little town though so we went on to Minehead….very steep road! The harbour was lovely and Minehead itself is an old fashioned seaside town. On along the narrow road to Allerford, a tucked away little village with an ancient bridge and little museum, on to Bossington, which I loved. It's an idyllic area, very pretty, and lots of nice…flat…walks or bike rides….right by the sea. Keep it a secret, please!
Ad. Article continues below.
Next….Why we have to get a replacement window for the caravan…..
Have you visited Clovelly? What did you do there? How was your experience? Tell us below!