OJ Simpson released on parole: 'I've done my time'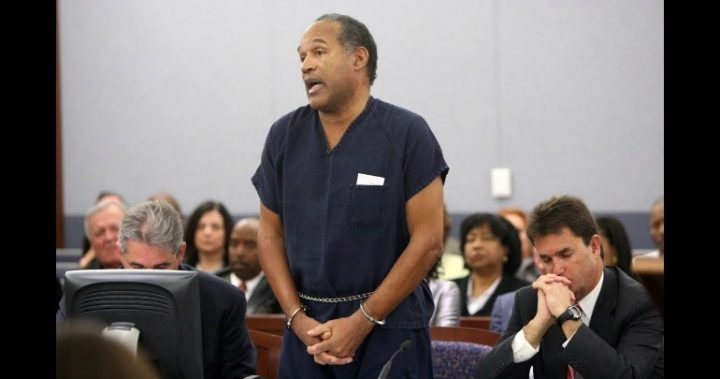 After a rambling bid to the parole board, OJ Simpson was granted parole by a unanimous vote.
Simpson's plea was streamed live from the Lovelock Correctional Facility in Nevada, with viewers around the world watching on to see if he would be released after serving just nine years of a 33-year sentence.
Simpson was arrested following the murder of his former wife, Nicole Brown Simpson, and her friend Ron Goldman in 1994. Though acquitted of the crime in a criminal court, Simpson was found at fault in a civil suit in 1997 and was required to pay more than $30 million to the victims' families.
A decade later, the former footballer and an associate were arrested in Las Vegas, Nevada for kidnapping, armed robbery and assault with a deadly weapon when attempting to steal some of Simpson's own sports memorabilia.
Simpson was sentenced to a 33-year prison term in 2008 with a shot at parole after nine years.
Ad. Article continues below.
"I've done my time," Simpson tells the parole board in the video. "I've done it as well and as respectfully as I think anyone can."
Now 70 years old, Simpson is charismatic in the video, smiling and joking with the parole board as one member mistakenly refers to him as a 90-year-old.  
One of the victims in the 2007 robbery speaks for Simpson's character during the plea.
"I've known OJ for a long time," Bruce Fomong says. "I don't feel that he's a threat to anyone."
While in prison, Simpson took an "alternative to violence" course and has been praised for his good behaviour.
Ad. Article continues below.
"I've not complained for nine years. All I've done is try to be helpful … and that's the life I've tried to live because I want to get back to my kids and family."
Simpson's daughter, Arnelle, is emotional in the video as she vouches for her father's character.
"He's like my best friend and my rock," she says.
"He is not the perfect man," she admits, but says that her father "truly is remorseful".
Simpson denies knowing that his associate was armed during the robbery, and maintains that he was not in possession of a weapon.
Ad. Article continues below.
"I would never ever pull a weapon on anybody," Simpson says.
"I am sorry that things turned out the way they did."
The parole board delivered their verdict after just 30 minutes; Simpson smiled and repeatedly thanked them.
Simpson could be released on parole as early as October 1.
You can watch Simpson's parole hearing in the video below:
Do you think Simpson deserves parole?