Meryl Streep caught in war of words with world's biggest designer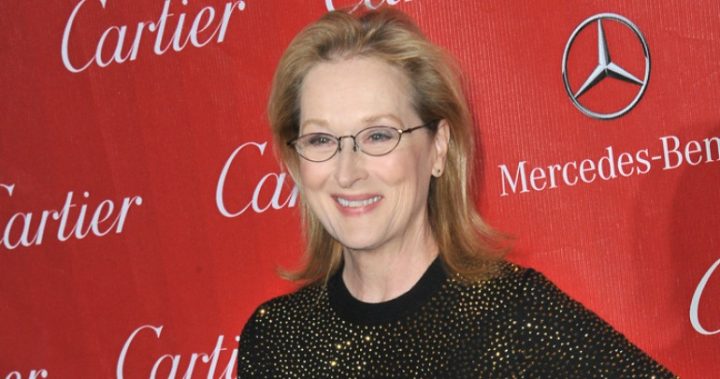 Actress Meryl Streep has lashed out at Chanel designer Karl Lagerfeld after he labelled her "cheap" in a magazine interview.
Lagerfeld claimed Streep had demanded to be paid to wear one of his six-figure-sum gowns to the Oscars this year and that she had backed out of the arrangement when he refused.
"I made a sketch, and we started to make the dress," Lagerfeld told WWD.
He said he later got a phone call saying, "Don't continue the dress. We found somebody who will pay us."
"After we gift her a dress that's 100,000 euros [A$137,000], we found later we had to pay [for her to wear it]. We give them dresses, we make the dresses, but we don't pay."
Ad. Article continues below.
"A genius actress, but cheapness also, no?"
It appears it didn't take long for Streep to get wind of this and she issued a statement saying it was a flat out lie.
"There's no truth to this rumour whatsoever. That it is against her personal ethics to be paid to wear a gown on the red carpet … The conversations were handled completely appropriately and in a timely fashion, and there were no hard feelings on anybody's part," her representative said in a statement.
Ad. Article continues below.
Perhaps Chanel realised it's better to remain on the good side of one of Hollywood's most powerful women because they issued their own statement just hours later saying they had "deep respect" for her.
"Chanel engaged in conversations with Ms. Streep's stylist to design a dress for her to wear to the Academy Awards, with the full understanding that she was considering options from other design houses," the statement said.
"When informed by the stylist that Ms. Streep had chosen a dress by another designer, there was no mention of the reason. Chanel wishes to express our continued and deep respect for Ms. Streep."
Guess she won't be wearing Chanel at the Oscars tomorrow…
Lesson learned – don't mess with the Streep!
Are you a fan of Meryl Streep? Do you think $137,000 for a dress is ridiculous, or is it about the craftsmanship?