Mass evacuations as Hurricane Irma barrels towards Florida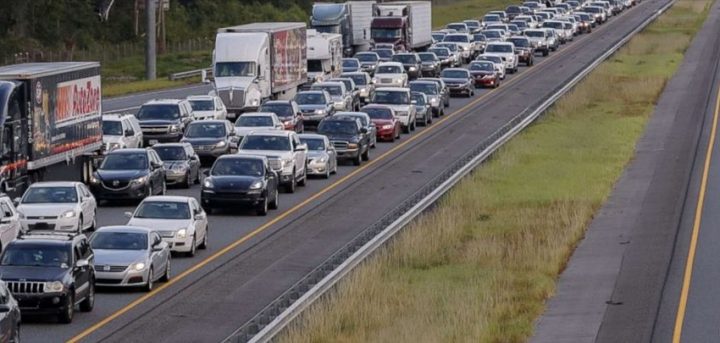 Thousands of Floridians are fleeing their homes as Hurricane Irma speeds towards the US coast faster than expected, with authorities warning the storm's damage is likely to be severe.
Highways heading north were clogged with cars on Thursday as residents packed up and headed towards safety.
Miami is expected to be one of the worst hit cities when Irma makes landfall as a Category 4 hurricane late Saturday (US time). CNN meteorologist Tom Sater said the storm will be "life threatening".
"It looks like it's shifting, even though it may be just 20 miles (32 kms), it puts Miami right in the worst possible position," Sater said.
Beautiful and frightening: the last 24 hours, day and night, of satellite imagery of #HurricaneIrma from GOES-16. pic.twitter.com/BSO3UkGM1o

— Peter Gleick (@PeterGleick) September 8, 2017
Ad. Article continues below.
While Florida and Georgia are under mandatory evacuation orders, some people are still choosing to stay in their homes, hoping to ride out the storm and protect their belongings.
CNN reports that authorities are now going door to door imploring people to leave while they still can. However, the cannot forcibly remove people from their homes.
Hurricane Irma has already left a trail of devastation in the Caribbean. The storm hit the region on Wednesday as a Category 5 hurricane, destroying Barbuda and killing at least 24 people across the Caribbean islands.
HURRICANE IRMA: This Is The Scene In Turks & Caicos pic.twitter.com/FW39tqEj1u

— Breaking911 (@Breaking911) September 8, 2017
Ad. Article continues below.
Video taken from helicopter flying over the British Virgin Islands shows sheer devastation caused by Hurricane #Irma https://t.co/coA8SMAUr0 pic.twitter.com/bhIm3Ec5nZ

— ABC News (@ABC) September 8, 2017
Florida Govenor Rick Scott said the call to evacuate had become even more dire.
"We're running out of time. The storm is almost here. If you are in an evacuation zone you need to go now," he said.
Ad. Article continues below.
"This is a catastrophic storm that our state has never seen. We can rebuild your home but we can't rebuild your life."
President Donald Trump has encouraged residents to follow safety advice.
Hurricane Irma is of epic proportion, perhaps bigger than we have ever seen. Be safe and get out of its way,if possible. Federal G is ready!

— Donald J. Trump (@realDonaldTrump) September 8, 2017
Have you been following the storm coverage? Are you affected? Have you ever been caught in a hurricane?