Lisa Wilkinson's glorious holiday ends in horrific injury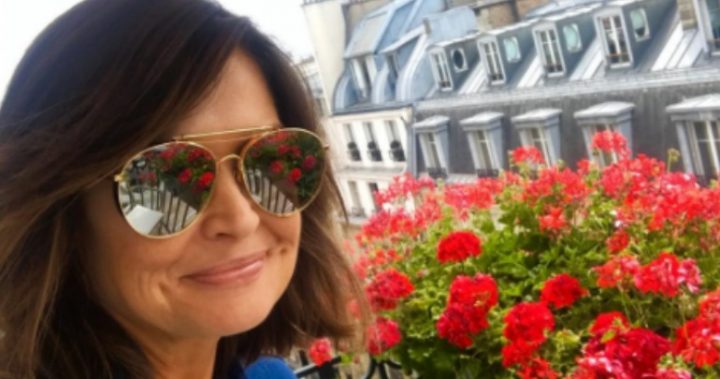 We've been following Today star Lisa Wilkinson's absolutely stunning holiday through Paris and the Amalfi Coast on Instagram – rather jealously we might add – but all of a sudden we're not feeling so envious. 
Unfortunately Wilkinson slipped and fell on a wet bathroom room in their hotel suite on the Amalfi Coast, resulting in two broken bones and a requirement to return home for surgery. 
In an article on the Huffington Post Australia website, of which she is editor-at-large, Wilkinson reliably described the accident in detail, and it's truly painful.
Read more: Lisa Wilkinson continues stunning holiday on the Amalfi Coast
"Somehow I just knew it was all too perfect…", she began. 
Ad. Article continues below.
"I'd been looking forward to this mid-year break since… last mid-year's break. Yes, my usual 3 am Today Show alarm, switched off for two glorious weeks!
It was a full holiday dance-card. Joining my husband — who'd been hosting a tour group of Aussies on the French battle-fields of the Somme — connecting with dear friends, heading off to a part of Italy so many have raved about, but we'd never seen, the amazing Amalfi Coast, south of Naples. We'd even managed to secure a spot at the most prized and picture-perfect restaurant on the coast."
And this is where it started to go downhill for the 57-year-old. 
"And, today, we were just about to head out from our hotel in the village of Amalfi to the hills behind us, when I thought I'd take a quick shower to freshen up," she continued. Uh oh. 
"I knew the floor was slippery, but the moment of falling seemed to take forever. My mind went in slo-mo — even though my body was in fast-forward — as I calculated just how bad the fall was going to be. I was right. Very bad."
Ad. Article continues below.
She described the pain as "like a red hot dagger stabbing into my right wrist" and said she was in "more agony than [she's] ever felt, outside of child-birth."
She received pain relief and had the break stabilised in hospital, but will require surgery to have a plate fixed back in Australia. 
She praised the treatment she received from the Italian hospital she attended with her husband, Peter FitzSimons, saying they didn't have to pay a cent, and later posted a (still beautiful) photo of herself with her arm in plaster and a sling to Instagram. 
And a photo of her in the midst of treatment following the fall. 
Ad. Article continues below.
An interesting day or two…. https://t.co/69XxH3bQCI

— Peter FitzSimons (@Peter_Fitz) July 14, 2017
TKs, Lisa.
LOVE those Italians.
They barely even wanted her name, let alone our money.
They just wanted to fix her pain, and stabilise it. https://t.co/U8MUU4B0ai

— Peter FitzSimons (@Peter_Fitz) July 14, 2017
It comes only weeks after she had her left wrist operated on for Carpal Tunnel syndrome, so she's not having a great run. 
Ad. Article continues below.
Read more: Lisa Wilkinson reveals the very good reason for her Today no-show
She may have temporarily lost the use of her right arm, but she hasn't lost her sense of humour, posting a photo of FitzSimons enjoying the holiday view with the caption, "Getting home to have surgery on my busted arm is one thing…but it looks like prising Pete out of his current book writing position, is going to be a whole other challenge…."
We hope she's on the mend quickly!
Do you have any messages of support for Lisa?