How to pack 100 items into your carry-on (VIDEO)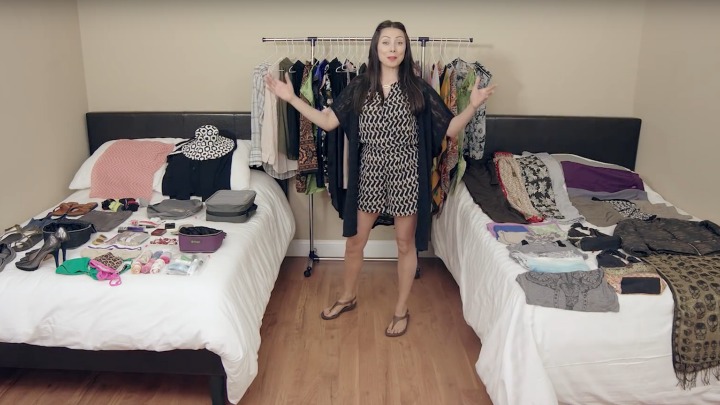 Image: Biaggi Luggage/YouTube
The tickets are bought, the travel insurance is set and all that's left to do is pack your suitcase. But if you're likely to leave this last important step until the last minute, you might find the process stressful and, well, just plain annoying. Well, you can take all the stress out of the whole process by taking notes from English TV host, Rachel Grant. Not only is she a former Bond girl, but she sure knows how to pack a carry-on suitcase.
Read more: Packing hacks for lazy travellers
Here's what you'll need to make the most of this travel hack:
Elastic bands
Zip-lock bags
1x carry-on suitcase
Packing cubes
Clothing and shoes
Ad. Article continues below.
Here's the step-by-step guide about how to pack efficiently with only a carry-on bag.
1. Roll your clothes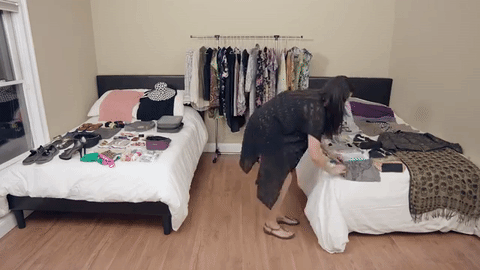 This is a space-saving technique that leaves more room in your suitcase than if you neatly folded each and every item. It also leaves your clothing less wrinkled, too.
2. Pop them into zip-lock bags
Ad. Article continues below.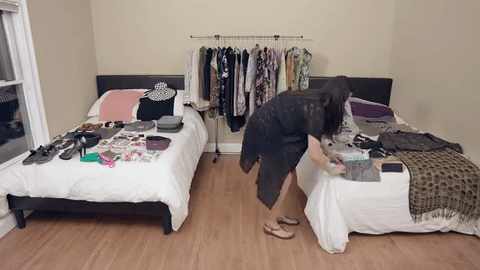 By using zip-lock bags you're able to remove as much air from your clothing as possible, leaving you much more room in your suitcase for other important things like souvenirs when you return.
3. Stuff your shoes with your socks and smaller items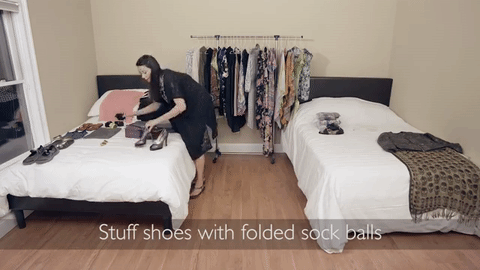 There is a whole lot of space just waiting to be stuffed inside your shoes. Don't waste it, use this area to pop your socks and other small items.
Ad. Article continues below.
4. Use rubber bands to hold your shoes together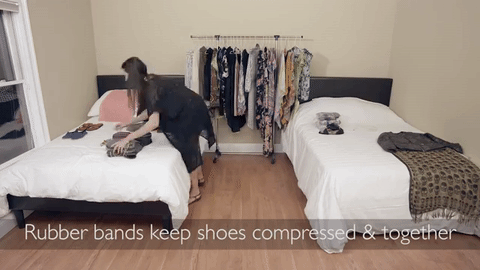 To make sure your shoes don't move all over the place inside your suitcase, wrap them together with rubber bands.
5. Keep similar clothing together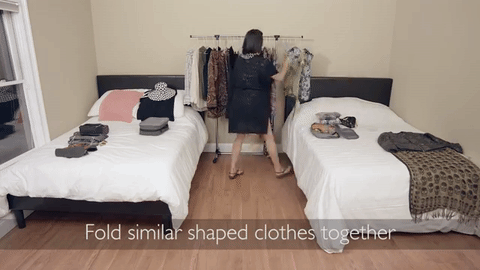 Ad. Article continues below.
When folding your clothes, Rachel suggests pairing similar items together. This means you fold particular materials as well as similarly-sized clothing together.
6. Packing cubes will keep your clothing compressed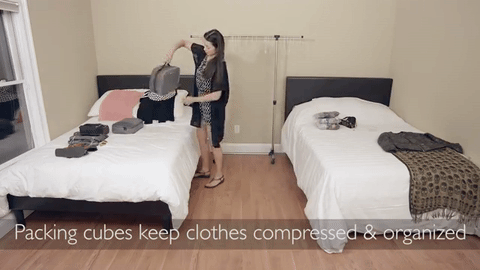 Rachel suggests using packing cubes because they compress your clothing as you pack them.
7. Heavier items on the bottom
Ad. Article continues below.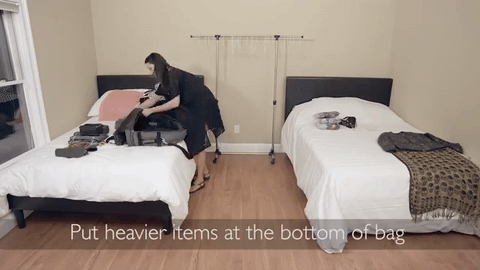 And don't forget to pop all your bulkier items like jackets and jeans on the bottom of your suitcase, that way you have more room to cram and stuff your smaller items to make sure it all fits.
Watch the video about how you too can pack 100 items into your carry-on:
What do you think? Will you try this packing hack the next time you go on holiday? What packing tips do you have? Let us know.