Film-maker's views on gender equality shock The Project hosts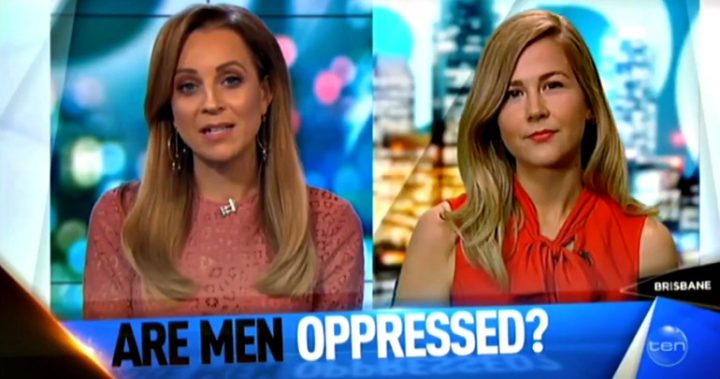 The hosts of The Project were shocked last night by the opinions of Cassie Jaye, a film-maker from the United States whose documentary is being protested around Australia.
"I'm curious what is different about Australia that makes this topic so polarising and so fearful to people that they actually want to shut it down and silence it and pull it from theatres," Jaye said on The Project.
Jaye's documentary is called The Red Pill, and it focuses on the men's rights movement. Many theatres have cancelled screenings due to the immediate backlash from feminists.
After producing documentaries about women's health, teen celibacy and gay marriage, Jaye says she became interested in 'rape culture'. Her research on the topic led to The Red Pill, which focuses on men's rights activists (MRAs) and highlights the inequalities that occur when experiencing so-called male privilege.
Ad. Article continues below.
When Jaye expressed her confusion about Australia's opposition to the film, The Project co-host Carrie Bickmore used the murder of Rosie Batty's son, Luke, as an example of the prevalence of domestic violence in Australia.
Jaye immediately turned the example on its head.  
"And it was his son that passed?" she asked.
When co-host Waleed Aly pointed out that Luke had been murdered by his own father, Jaye merely used it to further her point that male victims of domestic violence exist.
"Children are always factored into the domestic violence conversation," Aly argued. "The point that I think a lot of people take from that is that the violence was perpetrated by a man in that situation – as it overwhelmingly is – particularly in cases where there's a fatality."
Ad. Article continues below.
Jaye told The Project that she left feminism because she felt the movement had blinders on and was focused too much on women's issues and not enough on men.  
According to Jaye, when she asked men's rights activists about how women factored into their remarks, they would say, "We do look at women. Can we talk about men here? This is just a conversation where we want to talk about men and boys' problems for just five minutes."
Do you think Cassie Jaye has a point? Or has she completely missed the mark with her documentary?