Sitting like this could kill you in a car crash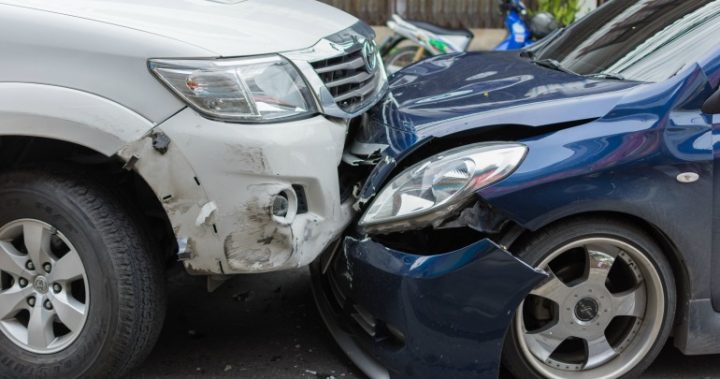 An American woman has made headlines around the world after sharing how an "ignorant" mistake changed her life during a car crash. 
For Audra Tatum, the most comfortable position in the passenger seat was to have her legs crossed with one foot on the dashboard. It's a fairly common way of sitting for many passengers, but it ended in tragedy for Tatum when her husband crashed into a car that pulled out in front of him. 
Tatum's husband, Nick, and her 10-year-old daughter were remarkably unharmed, but when the airbag deployed Tatum's foot was thrown backwards, hitting her in the face and resulting in a broken nose and ankle, and breaks to four parts of her femur. 
The injuries were able to be treated but, Tatum must now live with "two screws in her ankle, two in her hip, and two in her knee – and she can't stand for more than four hours a day", according to an article from Kidspot. 
Apparently Tatum's husband had always warned her against sitting in that position, saying she would break her legs in an accident one day, but Tatum never expected the prediction to come to pass. 
Ad. Article continues below.
"Basically my whole right side was broken, and it's simply because of my ignorance. I'm not Superman. I couldn't put my foot down in time," Tatum said to CBS News. 
That accident was two years ago, and while Tatum has largely healed from her injuries, she will never be able to pursue her dream of becoming a paramedic. In an attempt to raise awareness for this issue, Tatum has created a crowd-funding campaign. 
"The other day a local fire department shared a warning about people doing this … I got to thinking I could really make something positive from this and maybe save lives!" Tatum has commented on the campaign page. 
The fire department Tatum mentioned is Chattanooga Fire Department. 
"If you ride with your feet on the dash and you're involved in an accident, the airbag may send your knees through your eye sockets," the post reads.
Do you think a crowd-funding campaign is needed, or should this just be common sense?