Kathy Bates has audiences in stitches with hilarious lip syncing skills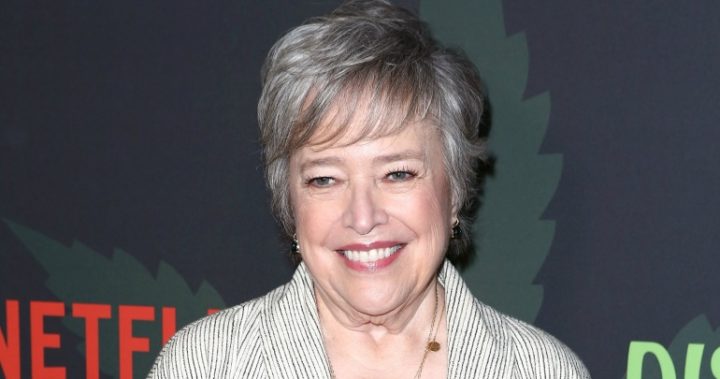 Kathy Bates, 69, is better known for her acting skills, however, the star recently showed audiences that she is also an expert when it comes to lip-syncing. In a preview clip for an appearance on the hit US show "Lip Sync Battle" she wows audience members with her rendition of Grammy award-winning Bruno Mars song "That's What I Like".
Lip Sync Battle is a competitive series that pits two celebrities against each other in a lip-syncing battle for two rounds with the crowd determining the winner. Bates competes against American stand-up comedian, Tone Bell, 35, in the episode.
In the short clip, Bates wears a leopard print shirt, some black slacks and accessorises with some gold bling to perform the R&B track. As soon as the beat drops Bates performs some killer dance moves and commands the stage. The film veteran also uses a lot of props to illustrate the lyrics of the song, including a chromatic limousine, a champagne bottle and a gold bracelet.
Bates looks to be in her element as she makes her way around the stage supported by a number of young back-up dancers, while the audience members and hosts can't help but laugh at her comedic take on the hit.
Ad. Article continues below.
In the preview clip co-host, Chrissy Teigen remarks "I finally have an answer when somebody asks me–which is always–"What's your favorite [Lip Sync] battle moment ever?"
Teigen then looks at Bates and says, "It is you on that stage, doing the foot slide."
The preview for the show has already been viewed on Youtube by thousands of people worldwide with many commenting on Bates' supreme comedic lip-sync skills.
One surprised user wrote "That was so great. Expected her to move awkwardly, but she was smoooooooth!"
Another commented, "Hey wasn't she that crazy axe murderer lady on American Horror show? And that loving, bearded mom? And that crazy hotel accountant? I love her so much."
Ad. Article continues below.
Many users also remarked that she "slayed" the performance and that she was "brilliant" in the clip. Some even said that they would start a riot if the film veteran didn't win.
Are you a fan of Kathy Bates? What do you think of her performance?
Read More: Facebook changes are coming – what it means for you, and for Starts at 60
With Facebook removing news sites from your feeds we ask that you sign up for Starts at 60's emailers here. And to keep us on your wall, join some of our new Facebook groups and clubs:

News Junkies Club – Australia
News Junkies Club – USA 

See news on the change and links to all our other clubs and groups here.