Big changes coming to self-serve checkouts at your local supermarket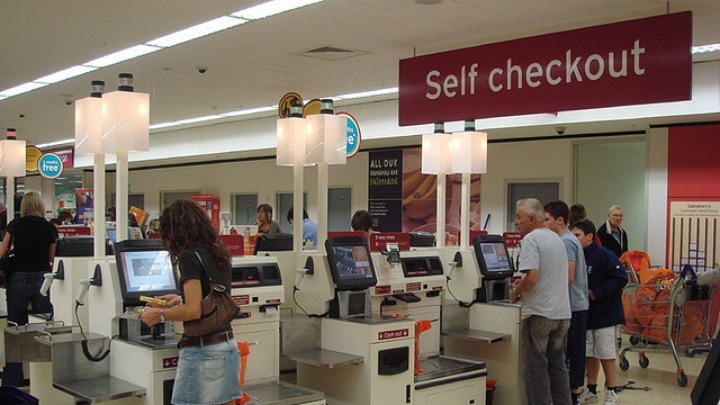 If you've ever taken something without paying at a self-serve checkout, you've been warned.
Police in New South Wales are cracking down on security at self-serve checkouts in supermarkets.
That's right, plain clothed officers could soon be watching your every move at the self-serve checkout.
NSW Police Detective Superintendent Murray Chapman told the ABC as well as plain clothed officers, there would also be CCTV around self-serve checkouts.
"Even if it is the avocado and you think you're saving $2, it's still shoplifting," Superintendent Chapman said.
Ad. Article continues below.
"It's still stealing, it's still a crime and if we catch you, or you get caught, you will be charged."
The NSW police wouldn't comment on how people were stealing items at the checkouts.
You might be wondering why the supermarkets and police are finally cracking down now on shoplifting at self-serve checkouts?
Well, according to Coles there have been a "substantial number" of thefts from their self-serve checkouts.
In New South Wales alone there have been 2697 people caught shoplifting from self-serve checkouts since January,
Ad. Article continues below.
Across Australia, there have 9654 since January – accounting for almost half of all shoplifting cases.
Is there a link between the increase in theft numbers and self-serve checkouts?
If there is, police aren't commenting on it.
Detective Superintendent Chapman is warning shoppers they are "very vulnerable" to being caught for shoplifting, regardless of how small they think the theft is.
"We will be targeting, identifying and prosecuting shoplifters," he said.
Ad. Article continues below.
"You won't see the loss prevention officers visibly at a lot of centres and you won't see the police visibly."
If you don't use self-serve checkouts, don't think this doesn't effect you.
According to National Retail Association, theft costs retailers $4.5 billion each year – 2.2% of annual retail turnover.
Chief Executive Dominique Lamb told the ABC that cost was ultimately passed onto you as a shopper.
"This in the end will impact the bottom line and we're likely to see job losses as a result," she said.
What do you think? Is it about time people stealing from self-serve checkouts were stopped?