Are you ready for the wide open life of a grey nomad?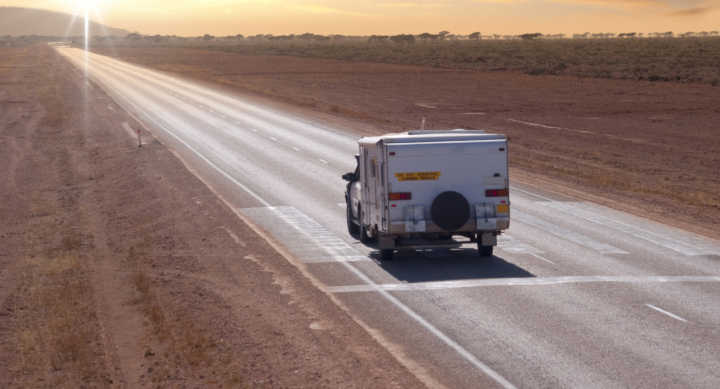 Ever contemplated a grey nomad life on the wide-open road, sitting up the front of a four-wheel drive, towing a caravan across the countryside seeing the delights of nature's wilderness, outback and history? Is it on your bucket list but you're just not sure how to make it happen? Have you 'been there, done that?'. Or do you shake your head at those who contemplate such dreams wondering what the hell people find so exciting about the idea of hours and hours of staring at the dirt-edged road, sitting in discomfort beside the one they love for days and weeks and months on end?
The life of a nomad will hopefully be one I get to enjoy one day and the craving is very very real. Imagine packing up all your big responsibilities into a storage unit, renting out your home, or locking it up at the very least, and setting off on a trip where you only knew the general direction you were driving, not the destination? The last time I did that was at the humble age of 22, on the other side of the world in my youthful kombi van, which I will forever remember for its fond moments rather than the lack of facilities, tight spaces and relative discomfort. But will I be so lucky with my retirement journey?
There's a story that many tell of a Grey Nomad couple who drove out of their Sydney home, having locked it all up, put everything in storage and set off on their grand adventure.   Three hours in, they stop at a country park, enjoy a cuppa and declare how bored they are. They got cold feet and decided to turn back, heading straight for the city that night. The open road was not to be for them and it was an expensive way to find out having bought a home on wheels and car to tow it that would rival the spend on a dozen international jaunts!
Ad. Article continues below.
But the question I have for you is, have you considered whether the wide-open road is for you? Are you ready for the sense of adventure, the freedom, placed right alongside the worry about fuel consumption, water, power, camping needs and the constant feeling of "what next"?
There's a couple of ways you can check…
Take a trial trip
You can rent a campervan in all corners of Australia, but some of the most picturesque and easy to navigate include Tasmania, southern Victoria's coastline and Western Australia, all of which can be enjoyed for a couple of weeks without the need for a four wheel drive or major purchase. You can fly in for three weeks, without permanently packing up the house, and "try before you buy" the life of a grey nomad.
Read books, blogs and talk to friends who have gone there
Ad. Article continues below.
Don't just take peoples' amazing pictures on Facebook at face value. Many nomadders will on first questioning tell you how wonderful their trip was, but it might take a little more time for you hear about the harder parts, the more boring parts and the frustrating parts. Make sure you have thought it through… it is after all quite a large change from life in a city or suburbs.
Join a club
There is a few clubs available for nomadders, and we here at Starts at 60 are even launching our own [email protected] Club which will be full of exciting and inspiring ideas for nomadders.
And if it doesn't fit you, don't think there isn't other ways you can see the country, taking in the best bits without the demands of the grey nomad lifestyle. My own parents have declared that nomadding is not for them, instead choosing to take short adventure tours to satisfy their craving for a challenge and keep them creating new memories.