Amazing father and daughter wedding dance goes viral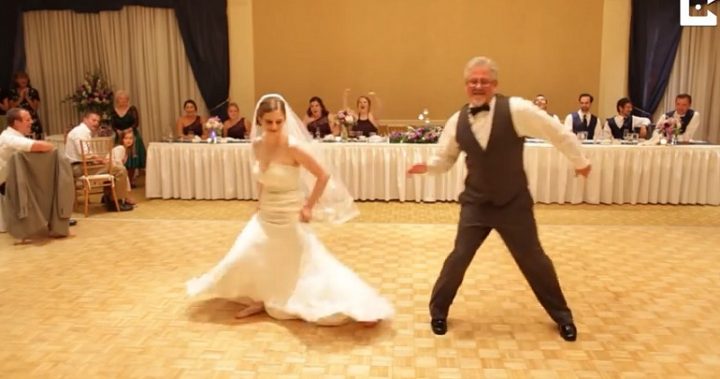 The traditional father and daughter dance at a wedding is usually an emotional moment for the bride and her entire family, but this daddy-daughter duo decided to flip things on their head with a surprise performance that brought the house down.
Holly Wolff and her father Rick Harnsberger cleared the dance floor so they could take part in the time-honoured tradition, with everything appearing as normal as they slow danced to Celine Dion's 'Because You Loved Me' for the first 45 seconds.
With the guests watching on and smiling, the beat suddenly changes and The Jackson 5's 'Want You Back' starts coming through the speakers. Suddenly, the pair break out of their waltz stance and start busting some serious moves as the songs change from one hit into another.
The guests can be heard cheering them on from the side lines, while the bridal party in the background is seen watching on completely gobsmacked with their mouths wide open.
Rick has some serious moves, proving you're never too old to bust a move on the dance floor!
Ad. Article continues below.
The video was uploaded online and it wasn't long until it started racking up views and caught everyone's attention.
"It was so much fun, we absolutely loved doing it," Holly told The Daily Mail.
"It was actually my dad's idea. He's danced with me before at my old dance studio and as you can see, he's pretty good at it.
"We wanted to keep it as a complete surprise, so only my mum and Kyle, my husband knew. Everyone adored it and couldn't stop telling us how awesome it was."
Their dance has certainly put a smile on the faces of the hundreds of people who have already watched it and will no doubt continue to do so!
Do you remember your father-daughter dance? What song did you dance to at your wedding?