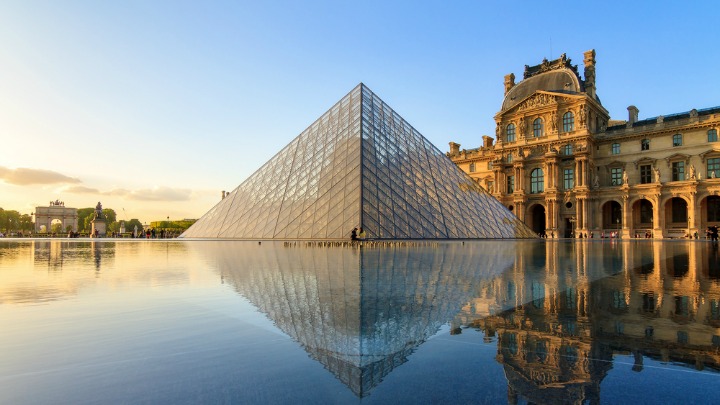 France might be known for the Louvre, the Eiffel Tower and baguettes, but there is so much more to explore of this culturally diverse, historically complex and visually spectacular capital city.
If you do want to channel your inner Parisian and eat cheese under the shade of the Arc de Triomphe, then go right ahead, but there's a whole lot of other things to do here, too.
Here's a list of just some of the sites to see in Paris that you can jam into 24 hours.
Read more: Unravelling the fabric of history from Paris to Washington DC
1. Montparnasse Tower
Ad. Article continues below.

Montparnasse Tower is visible from anywhere in Paris, as it is the only skyscraper in the city. At the top of the 56th floor you can see the view of the sprawling city below, a great option if you want to watch the sun rise before your big day of exploration.
2. The Louvre
Ad. Article continues below.
A trip to Paris just wouldn't be complete without a visit to the Louvre. Don't expect to be able to see much in one morning, though. It would take 100 days to see each and every piece of art in the gallery and that's only if you spent 30 seconds looking at each work of art!
3. Picnic on the Seine
Ad. Article continues below.
Walking around the Louvre can work up a serious appetite, and no doubt your feet will be beginning to need a break. Head along to the Seine River, stopping at a café along the way, and have a picnic. It's a great place to soak in the city and people watch.
4. Passage-hop
Ad. Article continues below.
There are a series of covered passageways that are a reminder of the rise of the French middle class. There are rows and rows of elegant cafes and department stores and it's a particularly nice way to spend the afternoon if it's raining.
5. Eiffel Tower
Ad. Article continues below.
Paris is called the city of lights for a reason, and when the Eiffel Tower lights up, it's a sight to behold. Whether it's cliché or not, the Eiffel Tower is romantic, beautiful and worth the visit while in Paris.
6. Paris Padlocks of Love
Ad. Article continues below.
For the romantics and lovebirds, a trip to the Padlocks of Love is an absolute must. Head along to the bridge with your significant other and lock a padlock onto the bridge as a sign of your everlasting love.
7. Wall of Love
Ad. Article continues below.
If you want to continue the love-themed tour of Paris, then head to the Wall of Love. It's a 40m-squared wall in Montmartre, where the words "I Love You" are written in 250 languages.
8. Avenue des Champs-Élysées
Ad. Article continues below.
The Avenue des Champs-Élysées is a 2km-long stretch of road along the eighth arrondissement of Paris. It is 70 metres wide is one of the most famous avenues in the world. Definitely worth a stroll, if only to catch a glimpse of these views.
9. Notre Dame de Paris
Ad. Article continues below.
One of the must-see locations in Paris is the Notre-Dame Cathedral, a medieval Catholic cathedral that was constructed in 1163.
10. Oscar Wilde's Tomb
Oscar Wilde once wrote, "A kiss may ruin a human life" and while it might not have ruined his life, it may have ruined his tomb. Thousands of kisses of lipstick have been left on his tomb in the Paris with eager fans of his work making the pilgrimage to his final resting place.
Are there any other places you'd choose to visit if you had just 24 hours in Paris? Let us know in the comments section below.