Kevin Rudd's billion-dollar blunder as PM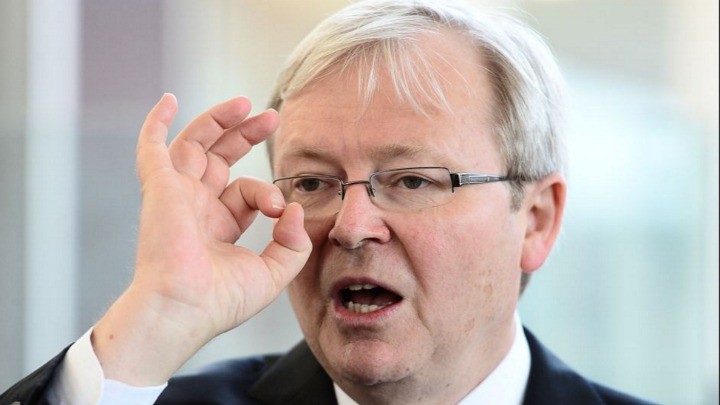 Remember the global financial crisis in 2007-08? Your savings might have taken a massive hit, but even if they didn't the then Rudd Government thought the best way to pull the country up and keep the economy afloat was to give everyone a cheque for $900.
Well, a new report — commissioned by the Federal Treasury — has revealed that the $100 billion stimulus package was probably not the best idea.
In fact, it goes so far as to say that given Australia's robust banking system, floating exchange rate, openness to international trade, and dependence on mineral exports to Asia at the time of the GFC, Kevin Rudd's decision to provide such a package weakened the economy.
"There is no evidence fiscal stimulus benefitted the economy over the medium-term," Tony Making, the report's author, writes.
Makin says that the money you received was handed out after the worst of the GFC has passed, and while it kept the market interest rates higher than otherwise, thereby contributing to a strong exchange rate, "this worsened Australia's international competitiveness and damaged industries… particularly manufacturing".
Ad. Article continues below.
Could our car manufacturing sector have been retained had it not been for the stimulus package?
He says the Australian economy was not 'saved' from a "narrowly defined recession" in the March quarter of 2009 solely because of the stimulus package.
In fact, compared to the budgetary repair of the United States, the United Kingdom, New Zealand and Europe, Australia has not done as well as it should have following the GFC.
The country's public debt post-GFC is among the highest in the G20, and ongoing deficits and rising public debt are contributing to the economy's continued weakness.
It's not good news considering the country's shock GDP figures recently released, highlighting the economy has gone backwards 0.5 per cent in the September quarter — the first time it has been in decline since March 2011.
Did you receive the Rudd Government's stimulus package for the GFC? Did it help you? What do you think of this report?
Important information: The information provided on this website is of a general nature and for information purposes only. It does not take into account your objectives, financial situation or needs. It is not financial product advice and must not be relied upon as such. Before making any financial decision you should determine whether the information is appropriate in terms of your particular circumstances and seek advice from an independent licensed financial services professional.