Pauline Hanson refuses to back 'next to useless' tax cuts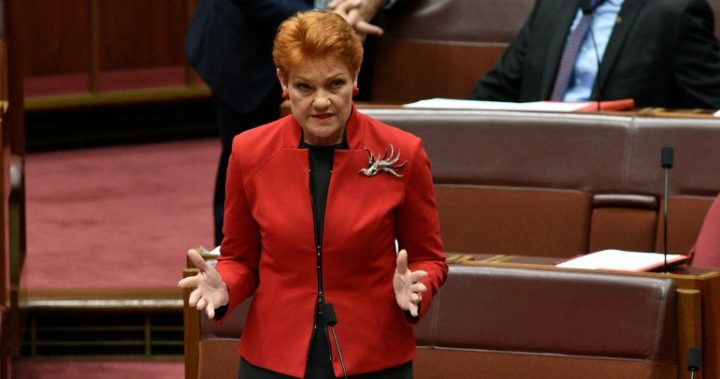 One Nation leader Pauline Hanson has come out swinging against the government's plan to cut tax rates for big businesses, calling the proposed changes "next to useless" and disappointing.
 In a statement released on Facebook on Monday morning, Hanson said she had done some digging and found that cutting the company tax rates from 30 per cent to 25 per cent would do little to improve unemployment figures. 
"My decision not to support the legislation flows from asking what the companies do with the additional cash and who will benefit the most," she explains in a statement. "I listened to the CEOs of our most successful companies, including Orica's Alberto Calderon, who says the tax cuts alone will not be enough to encourage further private investment.
"I listened to Australians who own shares in these companies. I listened to everyone who gave me their opinion directly or indirectly and it is clear that expert opinion is divided on the benefits of joining the global race to the bottom for company tax rates."
The government says a cut would allow some of the country's biggest companies more freedom for investment which in turn, would increase employment rates for Aussies.
Ad. Article continues below.
However, Hanson argued the proposal would be catastrophic for everyday Aussies. 
"Plainly the government has not done its homework on the impact of these proposed changes on retirees and workers, and that disappoints me," she says. "The cart is before the horse. No progress can be made by the cart."
She said Australia shouldn't be following tax structures of other countries, such as America, saying such a move would be "next to useless".
While she acknowledged the government wants companies to create more jobs and a better standard of living across the country, she fears a "catastrophic tax collection shortfall" will follow. 
"I supported a tax rate cut for companies below the $50 million turnover point," she says. "I remain talking with the government. I challenge the government to do a deal with the states and remove tax because that will lead to more jobs."
What do you think? Do you agree with Pauline? Will the tax cuts create more jobs, or will they just make the rich richer?
Important information: The information provided on this website is of a general nature and for information purposes only. It does not take into account your objectives, financial situation or needs. It is not financial product advice and must not be relied upon as such. Before making any financial decision you should determine whether the information is appropriate in terms of your particular circumstances and seek advice from an independent licensed financial services professional.