5 money saving tips to take the stress out of Christmas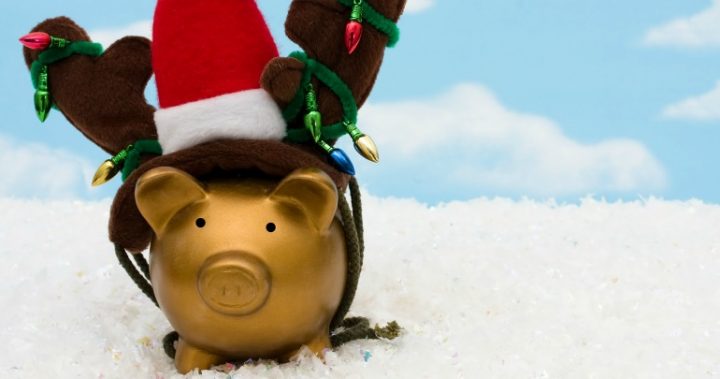 For many of us Christmas is one of the most stressful times of the year, particularly when it comes to money.
Research shows that less than half of us manage to stick and set to a Christmas budget, and if you're one of those people you'll know what it's like to feel stressed at Christmas time.
Luckily there's a few things you can do to put you mind at easy and enjoy the festive season.
From setting yourself a budget to planning well in advance, here are five money saving tips to help you take the stress out of Christmas.
Ad. Article continues below.
1. Allocate money in advance
One of the biggest mistakes you can make at Christmas time is waiting until the last minute to budget and set aside money for buying gifts, food and travelling. The sudden outgoing of money can really hit hard at your finances, particularly if you're not financially prepared for it. Sort My Money founder David Rankin said the ideal thing to do is to set a budget in advance. "Although Christmas is the biggest annual spend, you should see it as a holistic view of your outgoings," he said. "If you just view it as another outgoing throughout the year, it won't take you by surprise – and it'll take the drama out of Christmas as well." Try starting earlier in the year by setting aside $20 per week. By the time Christmas rolls around, you could have $1000 sitting there ready to spend! While it might not help you too much in November, it's a good tip to consider for next year. "Once you get into the habit, you'll never get out of it," Rankin said.
2.  Take advantage of online shipping
Want to beat the crowds and queues of the shop and save money? Then try shopping online! Not only can you shop around and easily compare prices with the click of a mouse, it saves you from parking, queues and chaos in the shops. Rankin says a quick Google search can easily help you compare prices between retailers. "You don't always have to buy new either," he said. "Shopping online gives you that option with the likes of GumTree."  Be aware though, that with postage and shipping you can't leave online shopping to the last minute. You should cut off your online shopping 10 days before Christmas to make sure you get your gifts in time. "Once you're getting into December you're really pushing it," Rankin said.
Ad. Article continues below.
3. Don't underestimate Kris Kringle (Secret Santa)
Have your family and friends ever tried Kris Kringle (or Secret Santa as most call it)? According to Rankin, it can be the answer to your Christmas money woes. "When you're assigned just one person to buy for it really takes the pressure off," he said. " It can be a much more thoughtful, personal gift with Kris Kringle." Maybe suggest everyone in your family or circle of friends buys a present for just one person? It can save you money and everyone will get one good present that they want.
Ad. Article continues below.
4. Set up a savings plan
It's not too late to save for this Christmas, but this tip will definitely help for next year. Financial problems can be like a rollercoaster at the best of times, but it can certainly add a lot more drama to Christmas. Rankin said starting to save for Christmas can help ease that pressure. He suggests starting your own "Christmas club", putting away $20 a week away in a savings account. "Christmas can be a litmus test of your finances, indicative of underlying financial problems that come to the surface at Christmas time," he said. "If you can get a handle on your Christmas finances, it'll go beyond Christmas – if you can save for the most expensive time of year, you can do anything."
5. Find out what others want
Ad. Article continues below.
Ever find yourself wondering, what does my grandchild want for Christmas? Then you're not alone. Finding the perfect present can be of the most stressful parts of Christmas, particularly if you're buying for someone you don't know all that well. To avoid wasting your money or buying something that's not much use to someone, you should do your research. Rankin suggests asking someone close to the person you're buying for if you're stuck for ideas. "That approach can be underestimated," he said. "Do some friendly research on the person and once your options are narrowed down, you won't feel overwhelmed." Why not ask your kids what to buy the grandkids? It'll really make life easier!
The most important thing to remember, according to Rankin, is to allocate yourself an amount of money and stick to it.
"Be realistic – don't be tempted to go too conservative or too overboard," he said.
"If you're struggling then it might be time to be a little bit 'selfish' this Christmas.
Ad. Article continues below.
"Avoid putting yourself in debt – you've got to look after number one, even if it means your family take the hit with less presents."
How do you handle Christmas financially? Do you struggle?
Important information: The information provided on this website is of a general nature and for information purposes only. It does not take into account your objectives, financial situation or needs. It is not financial product advice and must not be relied upon as such. Before making any financial decision you should determine whether the information is appropriate in terms of your particular circumstances and seek advice from an independent licensed financial services professional.