I tried on the head — *ouch ow*, the papier-mâché had been plastered over the top of a chicken wire frame, the twisty bits of wire scratching my scalp and catching hairs. Insert a light globe moment. I'd wear my yellow daisy patterned shower cap for protection.
We decided to partially dress at home, drive to the office, then assume the rest of the dressing outside the building before 'moo-mooving' our way into the party. All of which sounded fine in principle up to the point of parking the car, adding finishing touches and attempting to cross the road when my shoe heel got caught in the tram tracks! And yes, of course, there was a tram coming, furiously ding-dinging, followed by much laughter from passengers as they all hung out doors and windows guffawing at our misfortune! It must have looked hilarious!
Suffice to say we made it in, plodding up to the open bar to a round of applause and finally removing sundry bits and pieces, dying for a much-needed drink! The agency managing director kept staring at me, looking just above my eye level. "What? What?" Jenny, and many others, were in fits of laughter as I suddenly remember my yellow floral shower cap. How embarrassing!
Dearly beloved, always a bit left-field, turned up dressed in a trench coat and a tartan cap and scarf. What was he supposed to be? Scotch and Dry. Groan.
Memory number two from the 1980s is a classic. A friend's birthday fancy dress was closer to Brian's parents' home than ours, so we invited ourselves over to dress there and stay the night. The one requirement for this fancy dress was that it had to be homemade; no hire costumes were allowed and if anyone turned up in one, you had to change and wear the host's pyjamas all night. (No one did, thank goodness.)
It took us weeks to make our outfits, me as an Egyptian queen complete with head-dress, jewelled collar and crook and flail, all painted cardboard. Bearded Brian went as a Viking warrior with a horned helmet, balsa wood sword and laced Ugg boots. We had a kangaroo skin rug that he used as a cloak and he made a thonged belt from one of those leather things that hang in English pubs (horse brasses?).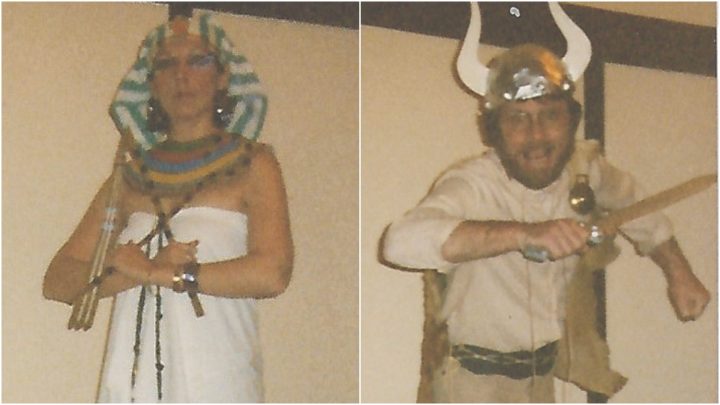 Brian created his helmet pretty much in the same format as Jenny's mum had and, from my previous experience with cow heads, forewarned about scratchy-catchy chicken wire, so he lined the inside of his helmet with a cut-up flannelette pillow slip. Smart man.
Off we went, Brian's dad driving us the few streets away to the party. When we saw a girl dressed in fox hunting attire — red jacket, jodhpurs, bugle in hand and a cowboy complete with lasso crossing the road, we pulled over and jumped out to join the merry throng. Into the house we trundled, looking around and admiring the costumes. Someone dressed as an Indian was handing around a tray of drinks and nibbles, "lovely, thanks", and we wandered about, thinking that this was decidedly odd as we didn't recognise anyone!
There was a good reason for that — we were at the wrong address; our party was another block further down. What are the chances that two fancy dress parties occurred on the same date in the same road! Suffice to say, we hightailed it out of there and made it to our friend's address — greeted by Mr T, the birthday boy jangling gold chains around his neck, and his wife dressed as a Jaffa (body all brown in tights, skivvy and beanie, poking out of an orange bean bag!) Ah, those were the days — just fabulous!
*Cosplay: a portmanteau of the words costume play, where participants called cosplayers wear costumes and fashion accessories to represent a specific character from a movie, television series, book etc. It is particularly popular in Japan where Manga and anime graphic novels are huge.
Keen to share your thoughts with other 60-pluses? You can sign up as a contributor and submit your stories to Starts at 60. While you're at it, why not join the Starts at 60 Bloggers Club to talk to other writers in the Starts at 60 community and learn more about how to write for Starts at 60. Community blogs published on the website go into the draw for some great weekly prizes.