As the weather gets warmer and your skin reappears from under winter layers, it's only natural to feel a little hesitation. For each of us the reasons are different. For some it's age and sun-damage related concerns, for others it's deeper wrinkles that we want to treat or stubborn fat that just won't budge. Never fear, the future of beauty is here.
While you might not be aware of them, there's a raft of new technologies that can help you treat some of the common age-related beauty concerns.
We've partnered with the team at Laser Clinics Australia to explore and explain the bigger and more interesting beauty treatments that are increasingly common among over 60s. The highly-skilled team of more than 300 doctors and registered nurses at Laser Clinics Australia are dedicated to creating tailored treatment plans that can have a huge impact on your self-confidence for summer, and for everyday life.
Ready to embrace the future of beauty? Read on.
The issue: Dark pigmentation spots, rough patches and uneven complexion
Your skin changes as a result of years of sun tanning at the beach and being out in the sunlight and, as we age, these changes start to become more obvious. Spots and scaly patches appear more commonly on skin that has been exposed to the elements, such as face and hands, but also on shoulders, chest, forearms, neck and upper back. People with lighter skin are usually more prone to age spots and darker pigmentation changes.
Although these changes are natural and happen to everyone, it can leave us feeling a little self conscious, especially in the summertime.
These skin spots and lesions are treated with BBL (Broadband Light Therapy) Hero. Described as the 'Swiss Army Knife' of skin treatments BBL Hero is the world's most powerful pulsed-light skin treatment, targeting anywhere on the body affected by ageing, sun damage and environmental aggressors.
Laser Clinic called this non-invasive treatment BBL Hero, as it uses light energy to stimulate skin cells and gently encourages your skin cells to regenerate faster. It is designed to leave you with a more youthful, glowing complexion with minimal downtime and visible results after one treatment.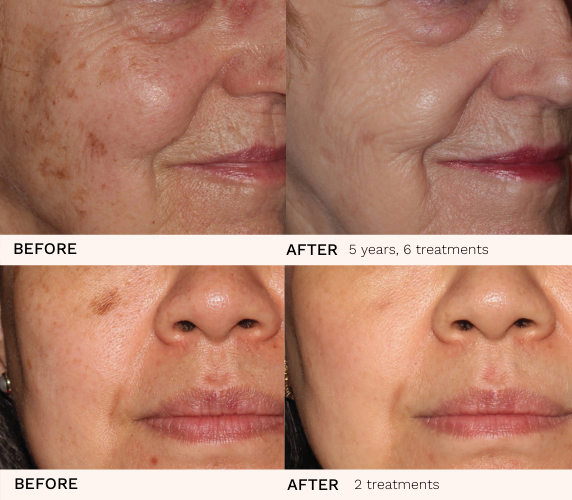 BBL Hero has four powerful treatment types to address multiple skin conditions associated with ageing, active lifestyles and sun damage. These include:
• Forever Flawless by BBL Hero to improve complexion: this treatment reduces pigmentation, age spots, rosacea and a variety of vascular conditions.
• Forever Young by BBL Hero to press pause on skin ageing: this treatment is suitable for aged skin and preventative ageing.
• Forever Clear by BBL Hero to reduce acne: this treatment is suitable for active acne and acne scarring.