The weather may play a part in the decision as well, as the majority of those in Queensland (75 per cent), where temperatures are known to get hot and sticky, admitting they prefer chocolate in the fridge. This is compared to Victorians, who freeze through extremely cold temperatures, with 61 per cent of those in the south-eastern state claiming the cupboard is best for the sweet treat.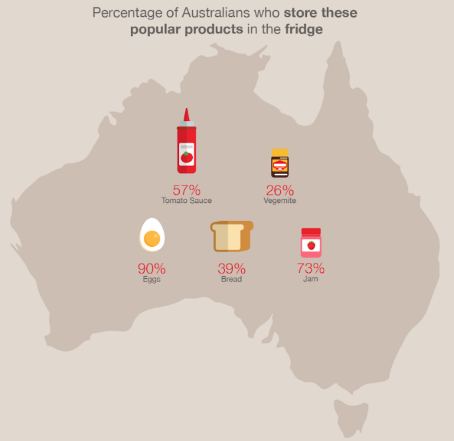 Though each person has their own preference, celebrity chef Ed Halmagyi said he opts for the cupboard most of the time as putting chocolate in the fridge can change its taste.
"Technically, there's no reason chocolate has to live in the fridge," he explained. "Chilled chocolate can taste different as cooler temperatures alter the flavour."
The chef added: "I'd recommend storing your chocolate in a cool, dark, airtight space, unless it's summer and you enjoy a sticky, melted mess."
Meanwhile, other kitchen staples such as tomato sauce, vegemite, eggs, bread and jam caused a much bigger divide across the country.
The placement of tomato sauce in the fridge or cupboard is one of the most controversial topics in the country but according to the poll, the majority of Australians are in favour of the fridge (57 per cent).
Breaking it down state by state, most of NSW (63 per cent), Queensland (63 per cent) and South Australia (56 per cent) store the condiment chilled while Victorians and Western Australians disagreed saying they prefer it fresh off the cupboard shelf.
Eggs (90 per cent) and jam (73 per cent) were overwhelming fridge favourites, while vegemite (74 per cent) and bread (61 per cent) are apparently meant to go in the cupboard, according to most Aussies.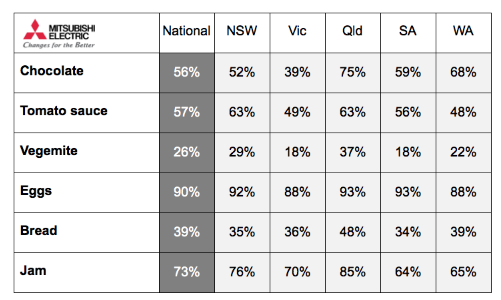 Environment and climate seemed to play a major role in differences in opinion once again, with spread storage proving the most diverse. A total of 37 per cent of Queenslanders opt to keep vegemite in the fridge, more than double their Victorian and South Australian neighbours (both 18 per cent).<
Queenslanders also went against the grain with jam, with 85 per cent placing it in the fridge compared to only 64 per cent of South Australians.
In Queensland homes, you're also much more likely to find bread in the fridge, with almost half of respondents (48 per cent) opting for chilled loaves, well above the national average of 39 per cent.
Sharing his thoughts on the results, Halmagyi said proper food storage is vital to a healthy kitchen and it's important to go by specific product instructions on the labels.
"It's important to store household staples properly, just as you would with any fresh produce," he explained. "Outside of visible signs, it can be difficult to know when something's reached its use-by date. A good old sniff test is always advisable but refer to the product's packaging instructions if you're still unsure."
Where do you prefer to keep products such as chocolate and tomato sauce?