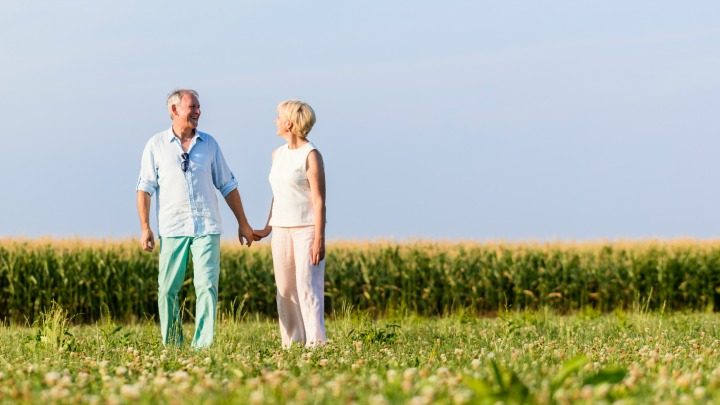 If you've ever seen an episode of As Time Goes By you might be impressed at how well it attends to the subject of love and relationships later in life.
For those unfamiliar with the program, it stars Dame Judi Dench and Geoffrey Palmer, and follows the relationship between two former lovers who meet unexpectedly after having not been in contact for nearly 40 years.
It's a beautiful series, and goes to show that even as you age you still have the same hopes, joys, jealousies and passions as you always did, there just might be a few more wrinkles.
There is perhaps a misconception that as you age the more lifeless you become, but this is simply untrue.
Starts at 60 was recently inspired by professional coach, public speaker and author Lyn Traill, who shared how she went from victim to victorious and is now sizzling in her 70s. Despite what is a painful story, Lyn reveals such strength and determination and spoke of how she uses her personal experiences to help others.
Traill was married to Mick Hadley, lead singer of Brisbane band the Purple Hearts, who passed away in 2012. She might be in a new relationship now, but Traill still describes Hadley as "the absolute love of my life" but it hasn't stopped her from having another "wonderful feeling".
After retirement you can expect to live another 20 or 30 years, but unlike your parents who worked, retired, lived on their pension and then died today's 60-somethings are out and about learning new things, travelling and embracing a very healthy social life.
A lot of later-in-life singles are due to separation or bereavement, and the sentiments around each are as individual as the person involved. Sometimes there is a fear of rejection and other times you might feel guilty for wanting to start up something new. Believe it or not, there are even a small group of 60-somethings who have never settled down and never wanted to.
"I miss having someone to make plans with," one Starts at 60 reader commented. "I don't want someone to move in with me, I'm just looking to share a bit of fun and maybe go out to dinner every now and again."
One of the joys of all of your life experience is the freedom it presents in how you choose to live. You can keep as much or as little of your independence as you wish, which is in contrast to what would have been acceptable for relationships in the past. It doesn't have to be full-blown love either; casual companionship is perfectly acceptable.
There's a huge network of single people in their 60s, 70s and beyond who have a lust for life and a hunger to be loved.
Have you found romance or companionship in your 60s? Do you have concerns about forming new relationships?
Comments