Yes kids, Grandma and Grandad still have sex!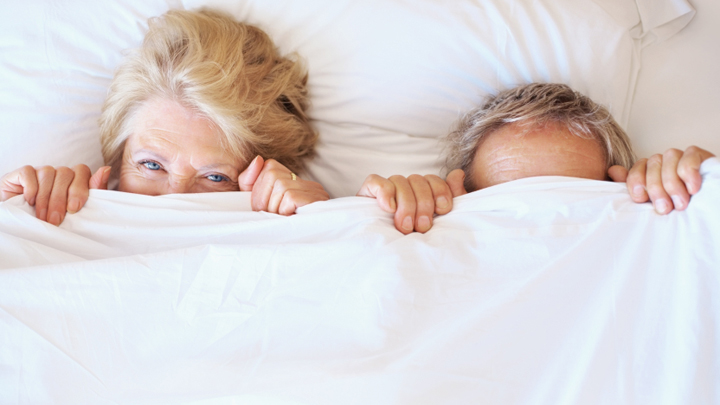 It's something you and I know happens but tell your grandkid that Grandma and Granddad still make love and you will have to run and catch them as they run out the door screaming! Our grandkids don't want to think that their grandparents still do the horizontal dance but let's be honest: we do! Anyone up to the age of 30 thinks of people over 50 having sex as something wrong or inconceivable, but we all know the truth.
According to Alzheimer's Victoria chief executive officer Maree McCabe, who is co-presenting the Lets Talk About Sex conference in Melbourne in September, there are issues facing older people, regarding intimacy and relationships.
"It's actually a social issue, we are very ageist about sex," she told 774 ABC Melbourne.
"If you talk to someone and suggest their grandparents might have sex, people recoil in horror".
If you've ever seen a mature couples' flick at the cinema, you can almost always hear an audible gasp or groan somewhere in the theatre. It's just wrong, they cry!
Ad. Article continues below.
Meryl Streep has become the face of those more mature movies, and we're not complaining. Hope Springs and It's Complicated, plus Diane Lane and Richard Gere in Nights in Rodanthe, are some of the movies that show that just because you're in your 50s and 60s, you can have an active social and sex life.
A study has further proven that beds around the country are a rockin' thanks to over 60s – in fact those who have 50 year+ marriages experience a rebound in sexual activity after their golden anniversary. Published in the journal Archives of Sexual Behavior, the research also found people who remain in their first marriages long-term have sex more frequently than those who remarry.
So why is this? The researchers believe it comes down to security and growing old together.
"Growing old as a couple, with the experience and knowledge that come with that, may play a part," said Samuel Stroope, Ph.D., assistant professor of sociology at Louisiana State University, in a press release. "You are able to learn about your partner and build on that over time. You may have a higher level of trust when you feel that your spouse isn't going to go anywhere. The expectation that the relationship will continue may give you more reason to invest in the relationship — including in sexual aspects of the relationship". Would you agree?
Whereas those who have remarried may not have that sense of permanence, hence not a huge jump in their sexual activity later in life.
Ad. Article continues below.
But even then, no matter if it was the couple's first or second (or third!) marriage, if they were having sex, they were enjoying it.
We need society to realise sex can and does happen even when your hips hurt, your back aches and not everything works as it used to – your desire and love for another never falters. This study helps defy stereotypes and confirm that sexual activity remains an important part of many older adults' lives.
Tell us, are you still enjoying an active sex life? Has it increased as you've aged? Do you remember thinking people in their 60s don't have sex?