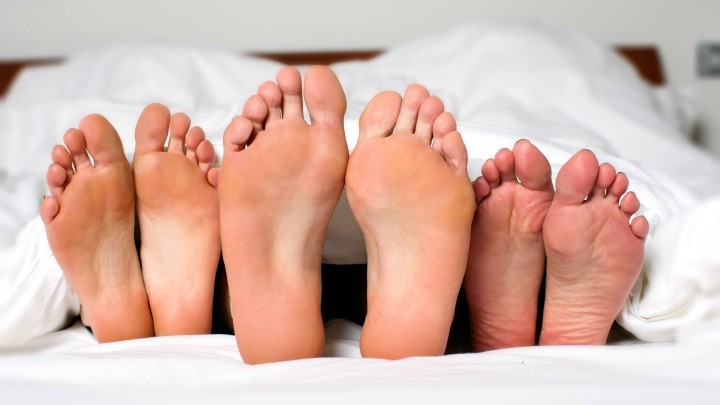 It's been over forty years since swinging captured our imagination in the Oscar nominated film Bob & Carol & Ted & Alice. Lots has changed for modern-day swingers though, as a premier swingers club has exclusively revealed. Now many older Australians are trying 'The Lifestyle' for the first time.
An increasing number of older Australians are trying swinging. According to Wayne, the marketing manager at Chateau Vino swingers club, the lifestyle "has a demographic that spans from late twenties to mid or late sixties".
Chateau Vino offers a non-confrontational environment for people to experience swinging for the first time. The club is a specialised venue that offers playrooms, bars and a dance floor, where new swingers can meet like-minded people.
There are many reasons why Australians are turning to swinging. People may wish to reinvigorate their sex lives, or add excitement to long-term relationships. "Experienced swingers who communicate well and have rules they adhere too, say that it enhances and adds to their already great sex life", explains Wayne.
"Swinging should never be used to replace the strength of any loving and sexual relationship. It should be an adjunct and treated as 'fun'. Most couples that visit (Chateau Vino) are married. We do host a few 'sex friends', but the bulk of the people in The Lifestyle that we see are married".
For married couples and single people alike though, swinging provides a different social dynamic. "It's a place they can relax, mix with people of a similar frame of mind, and generally talk about stuff they can't at say a friendly BBQ," explains Wayne.
"We have made lifelong friends through the scene. Sometimes the camaraderie surpasses the sex, and you become very good friends. I think the term is… Friends with benefits!" So how do lifestyle clubs differ from regular pubs and bars?
Firstly, there are strict rules for swingers who want to 'play' at the club. 'No means no' is the primary directive, along with 'always ask before you touch'.  Photography is completely banned throughout a swingers club, whilst drugs and solicitation are also prohibited. People are not allowed to walk around naked.
That's welcome news for would-be swingers who are conscious of their appearance, or have anxiety about swinging for the first time. "Some people have body issues, some are just plain nervous as it's all new, and breaks the general moral code of the community that we call 'fidelity'", explains Wayne.
"As long as visiting a club is approached with no expectations, then generally peoples' nerves dissolve when they realise it's not a sleazy environment, and that everyone there is approachable, friendly and not necessarily out to shag everyone".
Of course, shagging is the one question all first-time swingers want to know more about. Wayne explains, "rarely does it happen as you walk in the door. Most people like to wind down with a couple of drinks, chatting, flirting, dancing and then if the moment is right, they head to the playrooms for some fun".
At reputable lifestyle clubs, the "focus is on good social intercourse, before the sexual intercourse". Clubs such as Chateau Vino provide playrooms, bathrooms, towels, soaps, lubricants and condoms for safe-sex practices. Wayne believes this face-to-face connection is preferable to meeting people online.
"Online hook-ups invariably can be hit and miss, and clubs offer somewhere, where real swingers can gather and everyone is there for the same reason. Each couple may have different motivations, but clubs like ours allow them to at least have a better chance to meet compatible partners".
The lifestyle isn't for everyone though. In response to a recent CNN article, Facebook user Michael Sayers wrote, "swingers parties are for people that are not truly in love with their partner. True love doesn't share". Whilst Soloman Hobab accused swingers of having "no morals… bunch of unhappy people". 
On the other hand, Sandra Mi Why asked "why judge if it has nothing to do with you?" Whilst Gary Oates commented "people still swinging? Whatever floats your boat!" Either way, swinging in Australia has certainly come a long way from those infamous key parties of the 1970s. 
Would you visit a swingers club? Have you or someone you know ever tried swinging? Do you believe swinging is a more acceptable lifestyle choice in 2015?
Comments