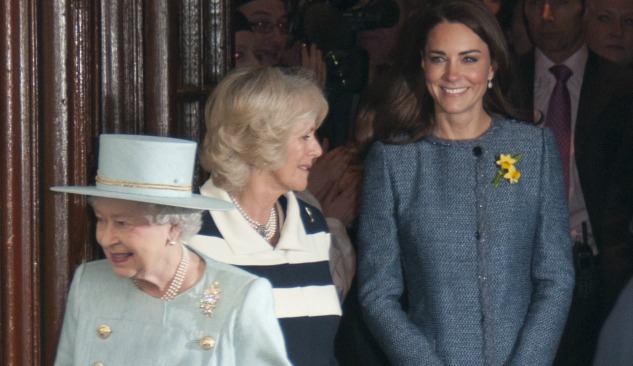 Imagine if your daughter-in-law curtseyed each time she greeted you. Even more strangely, imagine if you were required to curtsy for your own mother-in-law!
This is the case for Catherine the Duchess of Cambridge (albeit the Queen is her grandmother) who through royal protocol is obligated to curtsy every time she greets the Queen.
We rarely see Catherine curtseying to Elizabeth. However, during a recent memorial service at Sandringham House the granddaughter-in-law bent her knee.
Why Princess Kate Gave a Rare and 'Unusual' Public Curtsy to Queen Elizabeth via PEOPL… https://t.co/IYHpDyDRFU pic.twitter.com/0Sz6FZpqMN

— vasantasr (@vasantasr) January 11, 2016
Joe Little, an expert on royal traditions explained why Catherine curtseyed in this particular instance.
"It is rare, but it indicates that this was the first time that the Duchess saw the Queen", Mr Little said.
"It's unusual to see it in public but not unique. That would have been the first communication between them on that day".
Normally, Catherine would greet the Queen at one of their royal residences before travelling to an official engagement or photo opportunity.
"(A curtsy) would normally happen in private. Although they came from Sandringham House, they obviously hadn't seen each other before Kate and the Middletons and their friends set out on foot".
This rare insight into the interactions between Catherine and Elizabeth have divided public opinion. Some people see curtseying as a simple sign of respect, whilst others think the tradition is outdated.
One woman wrote online, "I think it is a lovely gesture to make toward an elder. (Curtsies) show respect for Her Majesty and why not? The Queen deserves our respect".
Whilst someone else disagreed saying, "royal protocol seems to make a human less empathetic, barely any compassion. I think it's wrong for (Catherine) to bow to those other royals!"
Do you think Catherine should be obliged to curtsy for The Queen? Or is this a strange way to interact with your own family?
Comments