Vladimir Putin's gesture to Hollywood actor Steven Seagal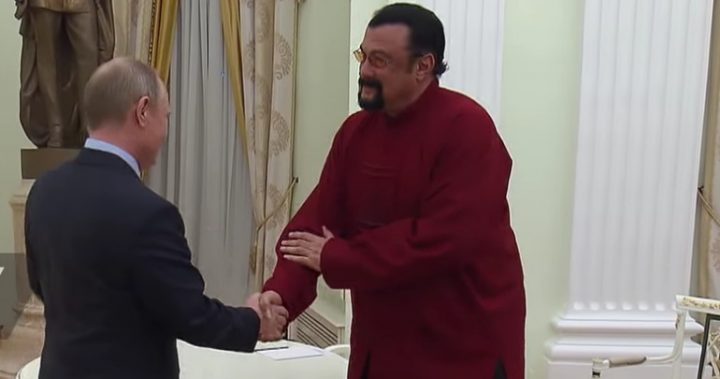 You might know Hollywood actor Steven Seagal from a range of action movies in the 80s, 90s and today.
But did you know about his strong ties to Russia?
For the past decade he's reportedly been a regular visitor to that part of the world, and now he's been honoured by none other than Russian president Vladimir Putin.
The ABC reports earlier this month, Putin signed an order granting Seagal Russian citizenship.
Now, the 64-year-old has been given a Russian passport by the president at a ceremony in the Kremlin.
Ad. Article continues below.
So, why is this worth a news story?
Well, Putin has reportedly said he hopes granting a passport to the US actor would show that the relationship between their two countries was starting to improve.
"I want to congratulate you and express the hope that this is another, albeit small, gesture and it might be a sign of the gradual normalisation of relations between our countries," Putin said at the ceremony.
"You have many friends in our country.
"You have have professional plans, too. Having Russian citizenship makes it easier to communicate with friends and implement those plans."
Ad. Article continues below.
Seagal said he was "honoured" to be at the Kremlin receiving the honour.
It might seem like an unlikely friendship, but Putin is reportedly a big fan of Seagal's martial arts and his movies such as Under Siege are apparently quite popular in Russia.
At the time Seagal was given Russian citizenship, a Kremlin spokesman said his  "warm feelings towards Russia" and fame were why he was given citizenship.
In the past, Seagal has reportedly  described the Russian President as one of the greatest world leaders.
What do you think? Are you a fan of Steven Seagal?