The stress-free way to cook sweet potatoes in under 10 minutes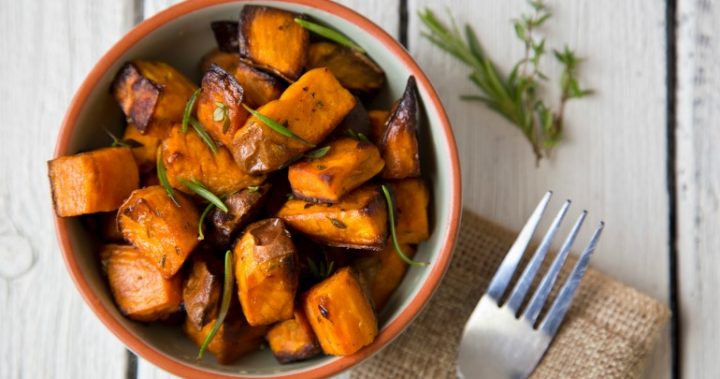 Is it just us or is sweet potato one of the hardest vegetables to "get right" when it comes to cooking?
Sometimes you want to spoil your family but the usual mashed potatoes and peas just aren't cutting it.
Sweet potatoes often do the trick to spruce up a meal, but it can be difficult to perfect the veggie.
Unlike regular spuds, the awkward shape and size of sweet potatoes makes it hard to stick to a winning formula. We usually end up with some of ours a little soggy and undercooked, while the rest strike a remarkable resemblance to charcoal.
Thankfully we've discovered a simple yet effective way to cook them – in a microwave.
Ad. Article continues below.
While you might be sceptical at first and think it's cheating, many claim that using a microwave is a sure-fire way to delicious, burnt-free spuds.
So how does it work?
Start off by cleaning your sweet potato how you usually would. Make sure it's dry when you're done.
Next, use a fork to pierce the skin of the spud six times.
Place it on a plate and microwave for two and a half minutes. Because the potato will still be in its jacket, you won't need to use cling wrap to cover the plate.
Ad. Article continues below.
When the two and a half minutes are up, rotate the potato and then heat for an additional two and a half minutes.
If you're cooking more than one sweet potato at a time, you'll need to allow an additional two minutes for each extra potato.
You may need to heat them for a minute longer if they're still firm when you jab them with a fork.
The best part is that you can follow these steps if you also want to make sweet mashed potato. Simply add the potato's flesh to a bowl with butter and salt and mash until fluffy.
This should save you a lot of time and frustration in the kitchen, while still allowing you to dish up a tasty side that your family will love.
What is your tip to perfecting sweet potatoes? Have you ever microwaved them before?