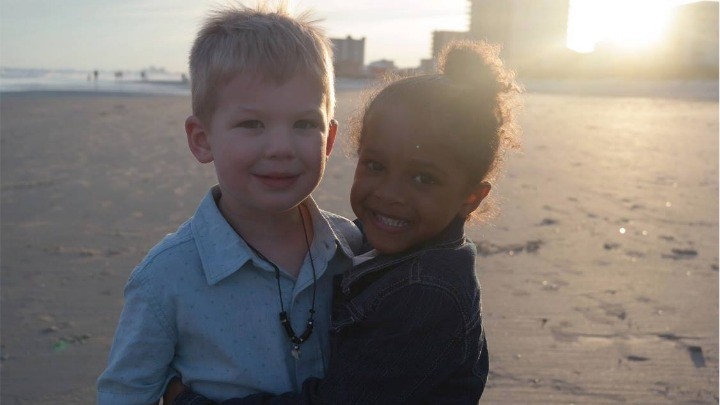 A mother's touching story about her little girl and her new friend has people everywhere thinking about the true meaning of friendship and acceptance.
The mother shared her story on Facebook after she was blown away by an experience she had when walking down the beach with her daughter in Myrtle Beach, South Carolina.
She says that as she and her daughter were walking along the sand when a little boy ran up to them and started talking to the young girl. The pair quickly took to each and were soon laughing, playing and chasing each other up and down the beach.
The story is particularly poignant because the girl in the story is black, while the boy is white. At a time when racial tensions are high in America and around the world, the story has touched the hearts of many people who say it is a reminder of how we should really be treating each other.
Take a look at the story below and share if you think the world could do with a little more kindness like this.
————————————————————-
"My daughter and I are in Myrtle Beach taking a sunset walk when this adorable and sweet little boy comes walking right up to her. He shares with her the shark tooth around his neck. He tells her his name and asks her name to which she tells him. They part ways while saying goodbye, walking in the opposite direction. A few minutes later he comes running back, in what seems to be in slow motion, yelling out my daughter's name. She turns around and is greeted by his smile. So they share a few words, mainly about his super cool shark's tooth that apparently gave him powers.
Before they walked, talked and raced, I asked his mother for permission to take this picture and this was the result. No one positioned them, told them to smile and there was absolutely no hesitation on their part at all. When we finished walking and it was time to go they hugged for a long time and exchanged about 20 "goodbyes."
This is a moment that we humans understand as just simply seeing no color lines, no judgement, no race, no hate, no shades. It's just pure….two kids meeting on a sunset walk without a care in the world…all they saw was each other. This world would be a much better place if we acted like these two kids."
What did you think about this mother's story? Do you think the world needs a little more kindness?
Comments