The ultimate chicken kiev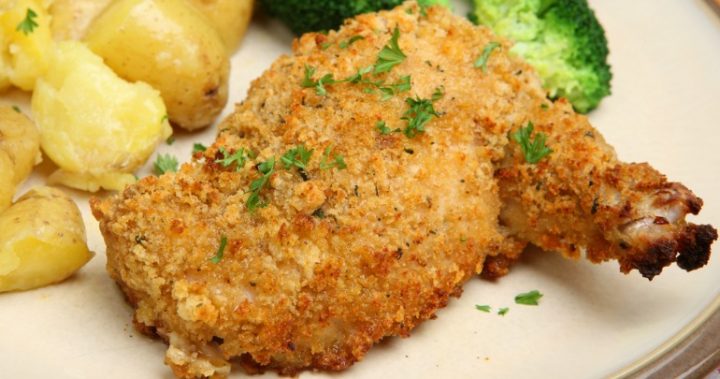 Get a load of this baby: beautiful, moist chicken with a crunchy crumbed crust and a garlic butter sauce. Yum! While many kiev recipes call for complicated methods, this version keeps it simple with an easy herb butter and ready-made breadcrumbs. It's a lovely dish to enjoy any night of the week goes perfectly with a light and fresh salad on a hot summer's night.
You'll need 8 toothpicks.
Ingredients
150g butter, softened
2 garlic cloves, crushed
2 tablespoons finely chopped flat-leaf parsley leaves
2 chicken breast fillets
1/2 cup dried breadcrumbs
1/2 cup plain flour
1 egg
Sunflower oil, for shallow frying
Method
Ad. Article continues below.
1. Place butter, garlic and parsley in a bowl. Season with salt and pepper. Mash with a fork to combine. Spoon mixture into the centre of a 20cm piece of plastic wrap. Roll up to enclose butter mixture, twisting ends to seal. Roll on a board to form a 10cm-long log. Refrigerate for 1 hour or until firm.
2. Using a sharp knife, make a deep cut along 1 side of each chicken breast to form a large pocket (do not cut all the way through). Remove plastic wrap from butter. Cut butter into 16 thick slices. Place 4 butter slices into each pocket. Secure with toothpicks to enclose filling.
3. Place breadcrumbs on a large plate. Season with salt and pepper. Place flour on a plate. Whisk eggs in a shallow bowl. Coat 1 piece of chicken in flour, shaking off excess. Dip in egg. Coat in breadcrumbs. Place on a plate. Repeat with remaining chicken, flour, egg and breadcrumbs.
4. Preheat oven to 180°C/160°C fan-forced. Grease a large baking tray. Pour enough oil into a large frying pan to cover the base. Heat over medium-high heat. Cook chicken, in batches, for 2 to 3 minutes each side or until golden. Place on prepared tray. Bake for 20 minutes or until cooked through.
5. Serve with mashed potato and steamed vegetables.
Ad. Article continues below.
—————————————————–
If you'd like to see more recipes from Starts at 60, click here. And if you have a recipe you'd like to share with the Starts at 60 community – we'd love to share it! Submit them to us by completing the form below.
Submit your article here