One of our Style at 60 community members has asked:
"I wear foundation but was wondering if a primer would be good first?" – Kerry Goodwin
Terrific question Kerry!   Make-up primer is an absolute beauty essential in the hot, humid Australian summer!
According to Napoleon Perdis,  "Not to prime is a crime!"  And do you know what – he is right!
Achieve a flawless look that will last all day!
Primer is exactly what its name says it is.  It primes or prepares the skin for your make up to help you achieve a flawless look that will last all day.  Dare I say it, but when you paint a chair for instance, you apply paint primer first so that the paint colour you want goes on easily, creating a better finish overall – the same goes with make-up primer.
Make-up primer works like this:
It helps to smooth out the skin – minimizing the appearance of any fine lines and large pores.
It prevents make-up from settling into fine lines and wrinkles.
Evens out the skin tone by reducing redness in the skin and minimizing the appearance of dark spots and blemishes.
It moisturises and softens the skin.
It reduces oily shine.
It makes applying your make-up easier.  You will find that where your make-up used to grab at the skin before now it glides on.  When you go to apply your foundation, you will find that it adheres to your skin better and provides you with a more flawless coverage.
Your make up will last a lot longer.  Quite often, make-up can disappear into our skin or melt off in the heat after many hours of wear.  Primer gives the make-up something to hold on to – and it stays put!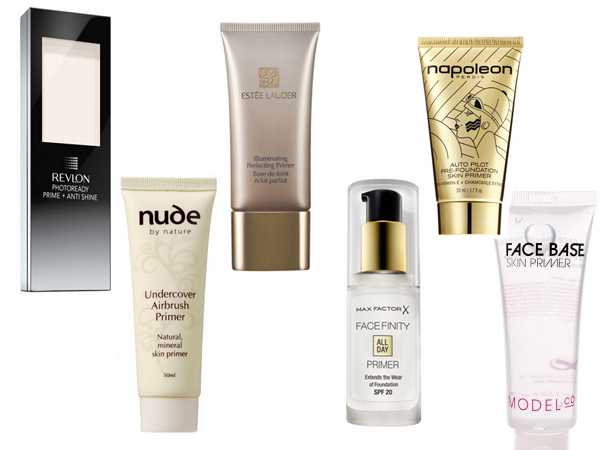 Revlon photoready prime and anti-shine
Nude by Nature undercover airbrush primer
Estee Lauder illuminating perfecting primer
Max Factor face finity all day primer
Napoleon Perdis auto pilot pre foundation skin primer
Model Co face base
Kerry once you start using primer it will be hard to stop as you will become addicted to how great you will look!
Do you use make-up primer and have any more tips for Kerry?  What do you like about it? 
Comments