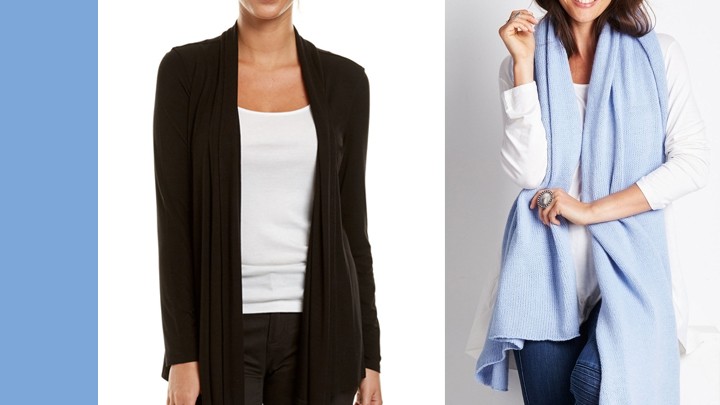 Heading away? Here is what you need to wear and take on board for a long flight!
Living in Australia, it is hard to avoid long-haul flights overseas! It doesn't matter where you go – close to home in Asia, a little bit further afield to the US or even further away to Europe, you are going to be travelling for hours on end – sometimes days!
Comfort should always come first
When it comes to choosing what to wear on a flight, I believe it is all about comfort. Style does play a part, of course, but first you must be comfortable.
I like to wear loose pants, or jeans with a good amount of stretch, a relaxed tee, another layer to pop over the top such as a cardi or jacket, comfy shoes and socks.
Why shoes and socks?
Sandals just don't cut it – especially when you wake up during the night with cold toes! A stylish pair of slip-on shoes with some cotton socks work best. Ensure that your shoes and socks will not be too tight if you tend to swell up. Flight socks are good, but are not suitable for everyone. I like to wear diabetic socks or everyday socks that are not heavily elasticised at the top. Make sure your socks are presentable in case you need to remove your shoes when going through airport security – you don't want socks that are mismatched or have your big toe sticking out – how embarrassing! If socks aren't really for you, just use them on the plane itself.
Choose your footwear wisely
You might find that you will be off and running when you land. Are you shoes comfortable enough for walking about and taking in the sights?
Where will you disembark?
Your choice of outfit also depends on your destination. If you are heading to somewhere like Fiji – be prepared for the humidity when you land. Avoid polyester and choose a top that you can wear comfortably in the heat when you get off the plane. Again if you are disembarking in a colder clime, you might want to have some gloves and a beanie handy, even an overcoat to put in the overhead baggage.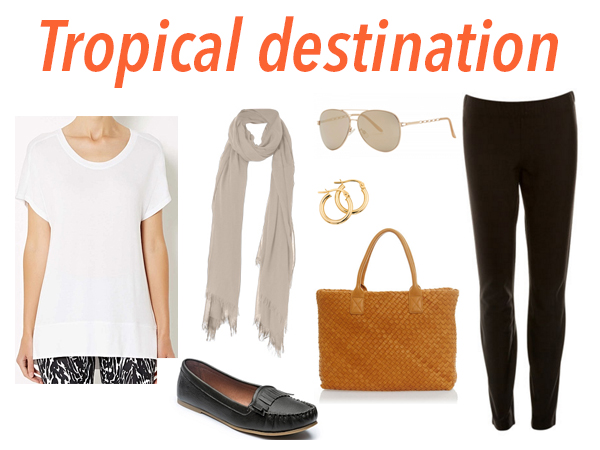 Sportscraft felicity pull-on pants
Witchery edson tee
Sussan milly sunglasses
Mela Purdie gossamer wrap
Sportscraft angelina tote
Country Road lisa leather moccasin
Michael Hill gold hoop earrings
Beauty do's before you go!
Get your eyelashes tinted and your eyebrows professionally groomed before heading away. Make sure you have a manicure that will last or can be easily managed  If you will be baring some skin make sure you have attended to your regular hair removal techniques before you leave.
Should I wear makeup when travelling?
Sure, but keep it subtle. You want to look polished not done up. Every day, come hail or shine I wear eye cream, my sunblock (which is also a moisturiser) and foundation to protect my skin from the elements – I don't budge from this routine just because I am getting on a plane. I avoid eyeshadow, eyeliner and mascara – it just gets messy and is not necessary. I groom my brows and wear a moisturising lippy or lip gloss and blush. I re-apply lip balm throughout the flight and then go back to lippy when we are about to disembark.
What about my jewellery?
I travel with my jewellery in my handbag or on my person. Never check it in – if it gets stolen, it is gone and no amount of travel insurance can replace the emotion attached to some of those pieces.
Be sure that the jewellery you choose to wear is secure and cannot catch on anything or fall off easily. I tend to wear plain silver or gold earrings, necklace and bracelets.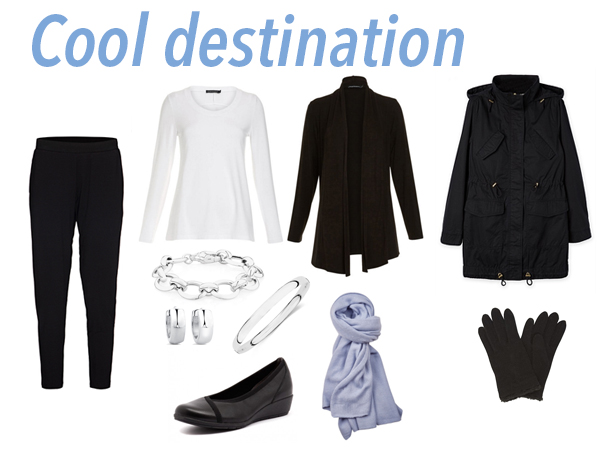 Mela Purdie  matte jersey euro pant
Sportscraft roselle tee
Supersoft by Diana Ferrari black flexwedge
Boho Bird the softest bandanna scarf
Sportscraft vivi drape cardigan
Blue Illusion daphne glove
Country Road washed drill parka
Michael Hill 20cm bracelet in sterling silver
Michael Hill sterling silver bangle
Michael Hill sterling silver hoop earrings
Hydration is key
I know you have heard it all before but it is true: don't drink alcohol on a flight. Drink lots of water. Use lip balm.
I have found that my skin becomes an oil slick if I don't keep hydrated. Wash you face with a warm face cloth. Spritz with an atomiser and apply a hydrating moisturiser or CC cream.
Sleep as much as you can. 
Easier said than done I hear you say – especially when the hostess keeps waking you up to eat and those kids behind you keep kicking the back of your chair! True. But give it your best shot anyway. Aside from taking something from the doctor to help you sleep, wear an eye mask, put ear plugs in and use one of those neck pillows. You will feel better at the other end if you are well rested.
Keep on moving
Do some little leg and foot exercises whilst seated. Stretch your arms up above your head. Do some lunges down the aisle if you want to – just do something to get that blood flowing and keep the stiffness at bay.
Take something warm
There is nothing worse than feeling cold. You cannot relax, you cannot sleep and you are miserable. At the same time, feeling too warm can be constricting. That is why I recommend layering your outfit. You can add another layer or two if you are feeling chilly or peel off if you are too warm.
In your hand luggage be sure to pack
Take a pashmina or a snuggly scarf as it can double up as a cover for when that thin little on-flight blanket is not enough. It will also be a stylish addition to your travel outfit.
Change of underwear and clothes. You just never know when they will come in handy.  Avoid anything bulky or clothes that will crease easily.
A sun hat is also something to consider. I remember once arriving in the US and we couldn't check in to our hotel immediately.  So off we went about seeing the sights – I got sunburnt!  So consider taking a soft foldable sun hat or cap.
Fabulous sunglasses
Travel tissues
Gum or mints
neck pillow, ear plugs and eye mask
Something good to read or occupy your mind. I actually prefer to read on a flight.  I don't always turn on the movies.
Be sure to pack these beauty essentials
Lip balm
Travel toothpaste and a toothbrush
Hairbrush & a hair tie
Moisturiser (you know, one of those mini ones you scored in a gift with purchase not long ago)
Sunblock – it would be great if it was a moisturiser and sunblock all rolled into one, then you only need to take the one.
A glossy lippy that you know suits you well. Lippy with a sheen – nothing matte!  If you are dehydrated from the flight a matte lipstick will age you and look horrid.
A rosy blush to compliment your lippy and give you a healthy glow
Eyebrow pencil & brush
A CC cream or foundation
Mirror compact
Tiny fragrance – samples are great to use.
Eye drops – you might need something to lubricate or brighten your eyes.
A mini water atomiser
Any medication you might require
Follow these tips ladies and you can rest assured that you have stepped off that plane putting your best and most stylish foot forward!
Do you have any travel tips that you would like to share?  Please tell us!
Comments