Ok it's hot – damn hot!  You know it's hot when you break a sweat getting ready in the morning and the clock hasn't even hit 7am yet! Welcome to the joys of another long Australian summer!
To be honest, the older I get the more unbearable I am finding our summers. Surely it wasn't this hot back in the 70's and 80's? Was it?  It can be exhausting making it through the day all hot, bothered and sweaty.  There is only one thing worse than oppressive heat – and that's oppressive heat and humidity combined!  Ugh!  With these storms sweeping the nation I am sure a lot of you are experiencing this right now!
In order to help you survive the sweltering heat in the most cool, calm and collected way possible, Style at 60 has put together these tips:
Boom Shankar matu maxi dress
Boom Shankar kochi maxi dress
Kooringal ladies wide brim kata hat
Millers rosemary bracelet
Billini humble flat
Choose your fabric wisely
Forget polyester!  It doesn't breathe and will help cook you, making you extra sweaty and sticky.  It should be banned in summer altogether.  I find it so frustrating to still see Australian designers using this fabric in their summer collections.  Instead choose lightweight breathable fabrics like 100% cotton, linen and rayon.
Keep it loose and flowing
Steer cleer of clinging fabrics and fitted designs if the heat bothers you.  Also take into consideration the bra that you wear, some bras breathe better than others and these are the ones you want on a scorching hot day.  A-line dresses and skirts are much cooler to wear than pants when it is hot.  Keep things loose around the waist if you can too – this is where the maxi dress comes in as a brilliant cooling style.
Colour plays a role
I don't know about you, but when I wear white I feel instantly cooler.  It is a scientific fact that darker colours absorb more heat so I recommend sticking to soft colours when the temperatures soar.  So that you don't look washed out – pare your outfit with some bright accessories and some coloured lip gloss and blush.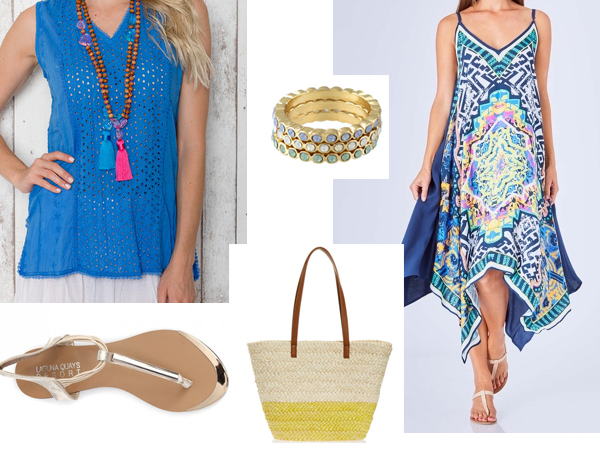 Living Doll cuban maxi dress
Adrift anglaise sleeveless top
Laguna Quays regina beige sandal
Sportscraft marley bag
Angelique crystal band ring set
Dare to bare
I know this isn't always an easy one for a lot of you but I would rather be cool than worry about what others think.  Go for strappy, sleeveless or even strapless designs to stay as cool as possible. Cut-out design features are everywhere at the moment – they will help keep you cool too.  Keep a lightweight layer handy to throw on if need be.
Don't forget to choose stappy footwear rather than enclosed footwear too.  When your feet are cool it helps to keep your overall body temperature cool too.
A cool hairstyle
Right now my hair is partially braided and pulled back up into a bun.  It is all off my face and my neck.  I don't know how women can wear their long hair down when it is hot – I get way too sweaty. You know my hairdresser used to always recommend keeping your hair longer in summer so that you can pull it up off your neck and I think that is great advice.  Otherwise short hair off the face and back of the neck is the way to go!
Keep accessories to a minimum
Sweating, heat and heavy necklaces don't work!  In fact you can end up with a heat rash.  Just go with a pretty pair of earrings, bracelet and ring.  Other ways to add interest to your look would be with a sun hat, fabulous sandals, a great handbag or a scarf.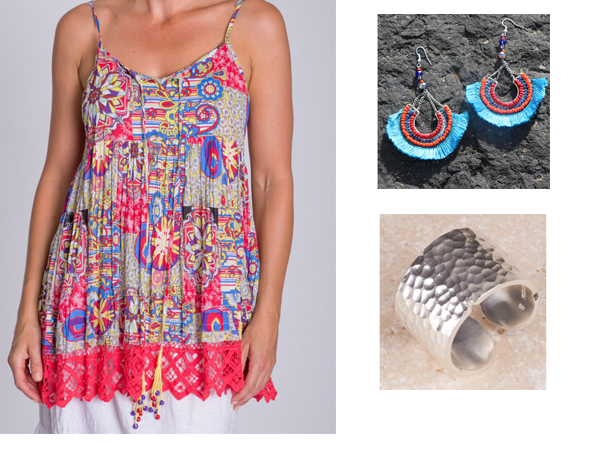 Mahlii audrey top
Adrift azure fringed earrings
Nicole Fendel hammered bronte ring
Take care of yourself
If you need to take a shower – take one!  I have been known to take multiple showers or dips in the pool on a scorching hot day. It will make the world of difference to how you feel.  Keep out of the heat as much as possible and keep well hydrated.  Spray a cool mist of water on your face and decolletage and sit in front of the fan for a minute to cool down.
Avoid hot situations
You might want to change the time of day that you usually take a walk, and go half an hour earlier at say 5:30am instead of 6:00am.  If someone invites you to go the the Botanical Gardens suggest doing that another day and go to an airconditioned movie instead.  Also try not to get in a flap rushing about- when you get worked up about something your body heats up too!  Put whatever it is aside and focus on keeping cool, calm and collected.
What do you do to stylishly combat the heat?  Tell us in the comments below!
Comments