Pink fur! Melania spares no expense to win the fashion war in China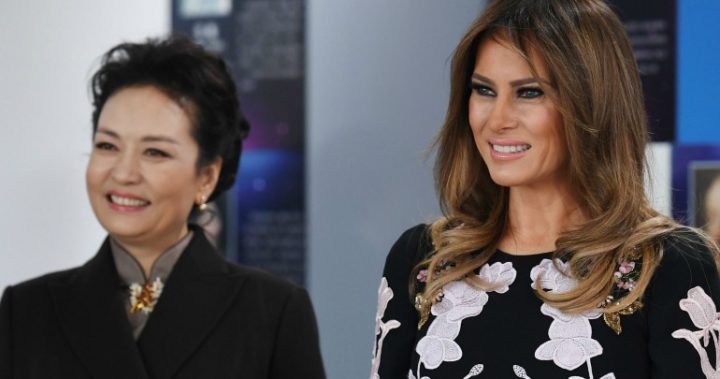 Melania Trump has pulled out all the stops to wow America's frenemies in China, wearing a two ensembles with plenty of wow factor in a single day of her 12-day state visit to the Communist country.
America's first lady donned a $5,200 (US$3,975) custom-made Dolce & Gabbana dress when she visited a school  with the Communist country's first lady Peng Liyuan. Melania looked statuesque in the frock, which numerous media outlets had to estimate a price on because it was a full-length version of a retail dress and thus not for sale to the public.
The Asian-inspired gown was embroidered with a pink floral design, with comfortable loose sleeves and a modest neckline. Peng, who's usually noted for her own good style, looked unusually straight-laced in a buttoned-up brown coat by comparison – although Melania's floor-length dress with beaded shoulder-pieces may not have been entirely appropriate for a day making diplomatic visits.
Designer Stefano Gabbana was clearly happy to see Mrs Trump in one of his dresses, posting an Instagram shot of her, labelled #DGWoman and thanking her for putting his style on the world stage.
Ad. Article continues below.
Melania then ramped up the glamour even further that evening for a state dinner at the Great Hall of the People with China's president Xi Jinping, wearing another Chinese-influenced dress, this time by Gucci, in the cheongsam style, with even more intricate embroidery, and baby pink, fur-trimmed, three-quarter-length sleeves. She accessorised with her favourite super-pointy stilettoes in matching baby pink.
On that occasion, Peng also donned a flattering cheongsam, with a sheer over-dress with bell-shaped sleeves. It's common for visiting first ladies to flatter their hosts when on state visits by wearing versions of the host country's fashions or pieces by local designers, and Melania certainly spared no expense in paying homage to Chinese style.
Chinese media usually loves Madame Peng's outfits, and the former professional singer is often praised for being a fabulous representative of the country on the world stage. So it's likely the Chinese press will not have been thrilled by Mrs Trump's attempted to outshine their own first lady.
Ad. Article continues below.
It's not the two first ladies have met, though, with Xi and Peng having stayed at the Trumps' Mar-a-Lago resort when they visited the US earlier this year.
Which dress do you like best? Did Melania look slightly OTT for your taste or do you love a high-glamour look no matter what time of the day?