Look your best in jeans, slacks and pants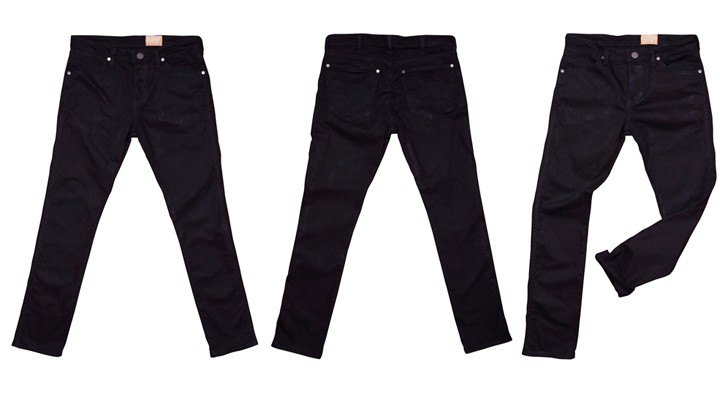 Whilst preparing to write about jeans and slacks, I looked through some magazine pictures of older ladies photographed randomly in the street; chosen because they were so beautifully and stylishly turned out. They all looked fabulous – beautifully groomed and wearing great colours. There were six ladies photographed and all were wearing slacks and jeans.
Women have embraced pants with gusto since they shocked the world in the 1950s; followed movie star Katherine Hepburn's example and stepped out in trousers. What a statement women made! Designers are now working wonders styling smart jeans, slacks and pants for every occasion. I have a friend who doesn't even own a dress or skirt!
FOUR TRICKS FOR WEARING PANTS 
Choose jeans and slacks with pockets on the backside. This flatters and makes the bottom look smaller.
Never wear pantyhose or elastic panties under slacks or jeans; it makes you look shapeless. The exception to this rule is the fuller-figured girl who may be more comfortable wearing elastic panties.
A pair of white jeans is de rigueur for summer.
Always buy jeans too tight; if you have to struggle to do them up in the fitting room, you know they are the right size. You know that they will loosen with wear and if you buy with room to spare, they will soon look baggy.
TOP TIP: If you like the tucked-into-boots look, cut about 12 to 18 centimetres off the legs of a pair of straight-leg jeans and zigzag around the edge. Tuck into knee-high stockings, pull on the boots and enjoy the comfort of reduced bulk around your ankles.
Ad. Article continues below.
Of all slacks and pants a well cut pair of dark blue denim jeans is hard to beat. Have a good look at the RM Williams range – my pick. Teamed with a white Henley, pearl necklace and earrings, tan boots with medium high heel, a tan belt, fashionable sunglasses and maybe a blue sweater nonchalantly flung over the shoulders. What could look better? Maybe a navy and white spotted or striped top under a crisp white edge-to-edge collarless jacket could be very smart.
NOW THE TRANSFORMATION
Transform this into a dressier look by exchanging the boots for black pumps with the same heel height as the boots. Patent leather could be swanky. Exchange the Henley for a white or cream satin or faux silk shirt that will blouse slightly over the waist. Collar turned up? Wear a black belt (patent if shoes are patent). You may be slim enough to choose an extra wide, curved black belt to define your waistline and accentuate the blouson effect. Now exchange pearls for more noticeable jewellery – perhaps chunky turquoise, bearing in mind that you might need some colour near your face because you won't be wearing a scarf. If you are brunette or auburn haired, amber and carnelian will suit. You may like to imitate Coco Chanel and wear oversized faux pearls – always lovely with cream coloured fabric and pearls suit everybody. Add a jacket in a rich fabric and colour to tone with denim and you will look classy anywhere. I have gathered an interesting set of jackets from vintage evening suits. An aqua Thai silk with yellow lining, a black satin tuxedo a brocade jacket and a black lace jacket with gold satin lining.
The pants fashion of the moment; pants with pretty prints in a lightweight fabric, often with an ankle drawstring – suits beautifully in warmer weather. If you are a pants lover, adopt this casual, comfy and attractive style instead of threequarter length pants which are inclined to make your overall appearance shorter and wider. Another great style for pants loving girls is the culotte; long to the floor or short and sassy for casual wear (more a divided skirt). Go for a flared cut to do justice to the style. Say crepe or satin for evening, prints and plain for everyday. I adore my black crepe culotte for evening: a touch trendier than black slacks, but still a classic look.
Ad. Article continues below.
Wear panties without seams and noticeable edges under close-fitting pants and jeans to avoid a panty line.
Ensure that panties don't show at the waist when bending.
Keep it comfortable – no tightness in the crotch.
Jeans, slacks and pants suit our carefree and informal Aussie lifestyle. We all enjoy the liberating comfort of pants. However, a pretty dress is a beautiful thing, so do a fashion flip now and again and flaunt your femininity in a dress or skirt – after all, variety is the spice of life.
Share your thoughts below.