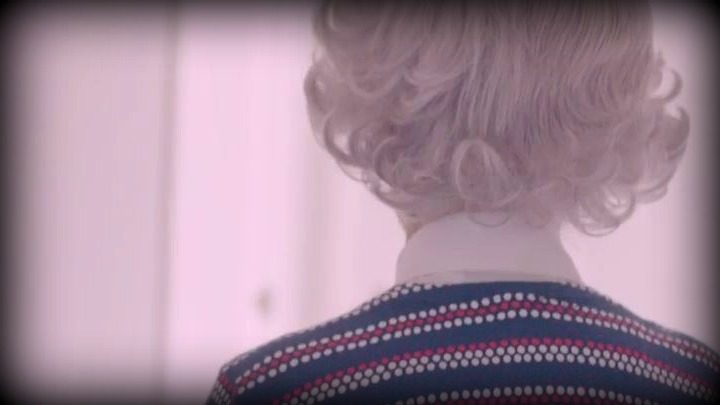 If you've ever been bothered by the lack of older women appearing in fashion shoots, remember this name: Bo Gilbert.
Gilbert is the first 100-year-old model to appear on the cover British Vogue.
The very special campaign featuring the 100-year-old was created by Harvey Nichols in celebration of the magazine's centenary. The shoot aims to tackle the issue of ageism in the fashion industry and prove that "the older generation can be fearlessly stylish".
The centenarian from Birmingham in the United Kingdom was chosen for the coveted modelling gig because of her "unwavering commitment to fashion"; she never leaves the house without her make-up on or a pair of heels. That's style inspiration, right there.
When asked about her style Gilbert says, "I do things that I think a lot of people wouldn't do at my age. I always like to keep myself looking quite decent, even if I wasn't going out. I try to keep the standards up."
She sure does.
In her very first campaign shoot, Gilbert wears bespoke Valentino glasses, a Dries Van Noten coat, a top by Victoria Beckham, a Lanvin necklace and trousers by The Row.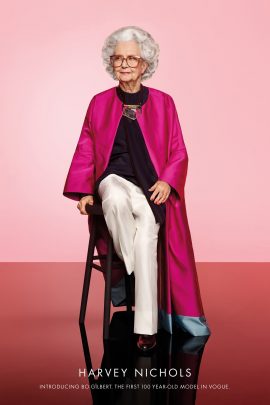 "We devised a campaign that reflected the playful attitude Harvey Nichols is famous for, celebrating both the 100th Anniversary of British Vogue and also style in its entirety," says Shadi Halliwell, creative and marketing director at Harvey Nichols.
"It was a privilege to work with Bo [Gilbert], she is a fabulous, independent lady who epitomises timeless style."
The images were shot by Phil Poynter, a renowned fashion photographer who has worked for Prada, Louis Vuitton and Lacoste.
In a two-minute video that accompanies the style shoot, Gilbert talks about the fashion she has admired throughout her 100 years.
"I dress to suit myself," Gilbert says. "I love the different fashions; we were all for these hats in those days. And nearly always tilted to one side, then either a feather or something in it. Now you never see anybody in a hat."
She's got a good point.
Gilbert says her ultimate style icon is the late actress Audrey Hepburn.
Gilbert looked to be overwhelmed by the result of the photoshoot, but you'd have to agree she looks simply stunning.
Do you have any style icons? What do you think about the way fashion has evolved?
Comments