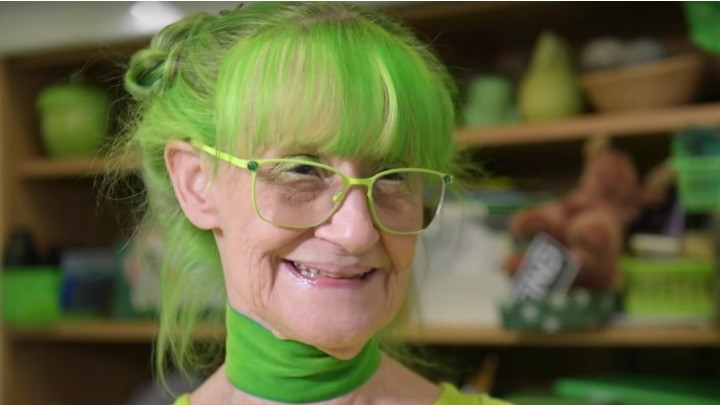 Introducing Elizabeth Sweetheart, a.k.a the 'Green Lady' or the 'Green Lady of Brooklyn'.
Elizabeth, 74, has always described herself as a bright and colourful person, dressing in colourful patterns in her early life. But as more and more green started making its way into her wardrobe she decided to ditch all the other colours.
"I never planned for any of this to happen," she says. "It's not an obsession. It just happened naturally. I've always used colour, collected colour."
Now, for the past 16 to 20 years she has enjoyed dressing in an array of shades of green, she dyes her hair and has decorated her home in green. With her front door, back door and stair case all painted in matching lime green colours, along with the kitchen rug, rubbish bin, utensils, dishes, cutting boards, saucepans and more.
"I've become green – I can't wear any other colour," Elizabeth tells New York Times. "Everything needs to be green, I can't sleep unless it's green," she says.
Elizabeth has worked in the fashion industry for over 40 years and even sports green underwear. When asked why, she responds, "I'm always doing things to keep happy, and green is just the most positive colour, and the happiest."
Born Elizabeth Eaton, she was raised in Nova Scotia and says her love of green might stem from missing her home, "Maybe it was because I grew up in Nova Scotia, and after moving to New York, I missed having green all around me."
Although her look is very unique, she says she has never had any problems in public and most passers-by in New York have stopped to tell her it is their favourite colour too. "They'll say, 'You know, that's my favourite colour,' and they're all wearing black." she says.
What's your favourite colour?
Comments