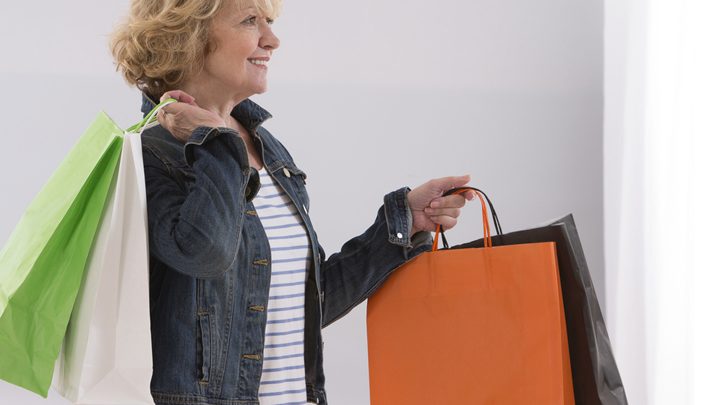 Who doesn't love a good shopping trip? It seems not many of us! New Roy Morgan research has revealed the shopping addiction doesn't die with age, and in fact we still want one thing: to be stylish.
Among these 65-plus women, there have been some shifts over the past few years that have signalled a change in our attitude to 'advanced style'.
In 2011, 60.0% agreed that they 'try to look stylish', but this has since grown to 65.3% in 2016, according to the Roy Morgan results.
Interesting, while many older women want to look stylish, only 24.8 per cent say 'It's important to look fashionable'. Well, as 94-year-old style icon Iris Apfel says, 'Fashion you can buy, but style you possess'.
But most importantly, advanced style is about enjoying life and being open to its experiences. Many women over 65 say they 'live a full and busy life' (67.7%, up from 65.5% in 2011) and 'look for new experiences every day' (21.8%, up from 17.9%). A huge 67.7% agree they're 'optimistic about the future'.
And we haven't stopped shopping: between January 2011 and December 2015, the proportion of Aussie women aged 65+ buying clothes in an average four weeks rose from 54.5% to 57.9%. Why has this increase? Because they've got more money to spend 15.2% are 'Big spenders' (up from 11.2% in 2011) and 26.7% as 'Medium spenders' (up from 24.5%).
Norman Morris, Industry Communications Director, Roy Morgan Research, says:
"The world [is learning] that old age is no barrier to fabulousness. Spearheaded by the inimitable 94-year-old Iris Apfel, advanced style is all about defying society's expectations of 'age-appropriate' dressing and behaving, and having fun with one's personal style.
"As the data discussed here indicates, a growing proportion of Aussie women aged 65 or older hold one or more attitudes consistent with an 'advanced style' mentality, and possess the spending capacity to act on it. What's more, the number of women with the exact combination of qualities constituting truly Advanced Style is on the rise.
"Only Roy Morgan Single Source contains data about which stores they're most and least likely to identify with: for example, women who possess all of the advanced style qualities examined here are more than twice as likely as the average Australian woman to feel that David Jones is a store for 'people like me'. They are also dramatically more likely than average to feel the same way about Myer and Target, but decidedly less likely to identify with certain other retailers…"
Tell us: do you still love shopping? Where do you shop?
Comments