Tony Abbott's daughter secretly marries and shares intimate photos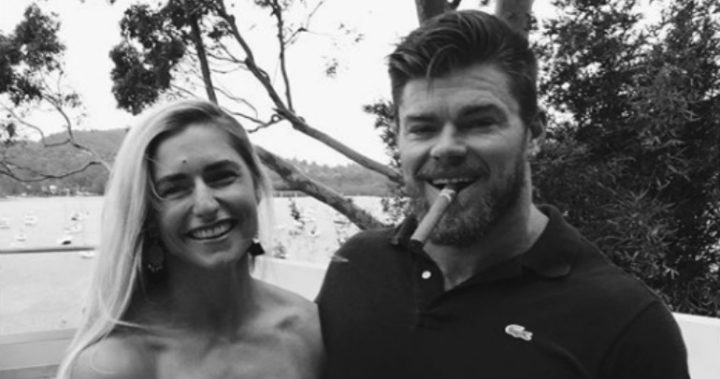 Former Prime Minister Tony Abbott's daughter Frances has announced she secretly married her partner Sam Loch on Valentine's Day, by sharing some intimate photos from their big day.
The pair are due to celebrate tying the knot in a bigger celebration in "a couple of months", but they made it official in a smaller ceremony on Wednesday, even appearing to share a first dance together.
Abbott, 26, stunned in a tight-fitting, strapless white dress, in a move away from a more traditional bridal gown. She added leopard-print sandals to ensure she stood out, and wore her blonder hair loose over her shoulders. Adding huge silver earrings, she managed to make the unique look elegant and stylish.
Ad. Article continues below.
Meanwhile, her new husband chose a more casual look in an open-neck white shirt and smart trousers. Taking to social media to announce the news, Loch shared a photo of them on the steps outside, pointing to the camera and laughing. He captioned it: "The celebratory component isn't for a couple of months, but we made it official in the eyes of the law today. We're the motherf***ing Mighty Morphin Power Rangers of love."
Abbott shared her own snap, as they enjoyed their first dance and shared a kiss together in front of the camera. She wrote: "YOU [hearts] Happy Valentine's Day @samloch Always and forever #locheddown #youmaynowkissthebride #f***yes."
Abbott announced she had got engaged in November, after just two weeks of dating Loch. Taking to Instagram at the time, she posted a shot of several strips from a photo booth that showed her and 34-year-old Olympic rower Loch in various poses, cuddling and kissing for the camera. 
Ad. Article continues below.
"HEY FEYONCÉ," she captioned the image, with a nod to singer Beyoncé. "Two weeks was all it took to know that forever with you was a mighty fine idea." 
Frances's followers (which numbered nearly 9,000 at the time), were quick to offer their congratulations.' "You just know it when you find the one," one follower wrote. "Doesn't matter how soon or how late in a relationship it happens!" 
Read more: Tony Abbott's daughter announces engagement after just two weeks
Journalist Rachelle Unreich couldn't help but express her surprise. During a recent interview with Unreich for Harper's Bazaar Australia, Frances described herself as "so single". 
"Whoa! Things change quickly! (When I interviewed you not very long ago for Harper's, you said you were sooooo single!) Congrats! Wishing you a lifetime of happiness," Unreich wrote on the Instagram post. 
Do you have a message for the couple? Do you like Abbott's dress?