Son hilariously pranks mother with exciting grandchild announcement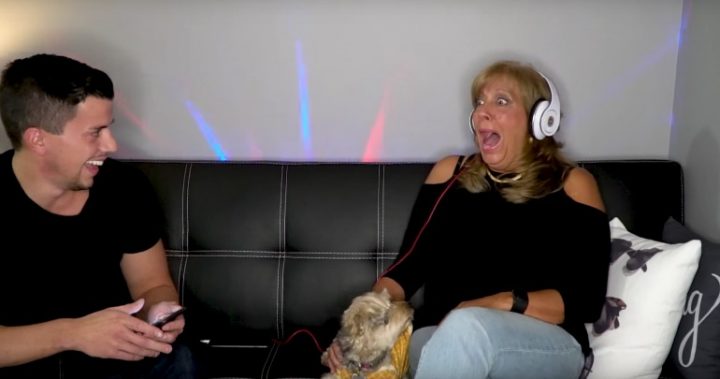 Do you remember the first time you found out you were becoming a grandparent?
One man from Cleveland, Ohio in the United States decided that he wanted the moment he told his mother that she was becoming a grandmother for the first time to be unique and memorable.
Ryan Harvey, 29, took to his YouTube Channel with his mother, Karen Klucar, 64, leading her to think that she's just playing a silly game as part of content he regularly uploads for his followers. Little did she realise that her life is quite literally about to change for ever.
Ryan decided to play a popular game known as the Whisper Challenge. The aim of the game is for one person to try and understand what another person is saying, while listening to loud music. Hilarity usually follows as the person listening to the music comes up with all kinds of crazy answers that are nothing like what the other person is actually saying. It's become a popular segment on programs such as The Jimmy Fallon Show, with Ryan deciding this was the best way to break the news to his mum.
To throw his mother off his cunning plan, he initially tried to get her to understand that he was saying "Sometimes my farts smell like blueberry cupcakes".
Ad. Article continues below.
"Sometimes my farts smell like poop popcorn," she hilariously guessed incorrectly. After a few further attempts, she eventually figured out the answer. The money moment came with Ryan's next phrase.
"My name is Karen," he instructed his mother to say. "And I'm going to be a grandma in June."
Because of the funny nature of the game, it took poor Karen a while to figure out what her son was saying. At first, she misheard her name for Derrick, and believed that her son said she was "going to pee" rather than "going to be". She also misheard "grandma" for "crack dealer". It's a truly magical moment when she realised what was happening.
When it finally clicks, Karen can be seen screaming in absolute disbelief. Her screams turned into tears of joys as Ryan presented her with a framed photo detailing the arrival of her first grandchild.
Ad. Article continues below.
Ryan's pregnant wife, 29-year-old Carly, also appeared in the video, showering her mother-in-law with hugs as she is visibly overjoyed by the news. "Oh my god, I can't wait," Karen could be hear saying through her tears. "I'm so happy for you."
This is what becoming a grandparent is all about!
What did you think of the video? Where were you when you found out you were becoming a grandparent for the first time?
---
With Facebook removing news sites from your feeds we ask that you sign up for Starts at 60's emailers here. And to keep us on your wall, join some of our new Facebook groups and clubs:

News Junkies Club – Australia
News Junkies Club – USA 

See news on the change and links to all our other clubs and groups here.