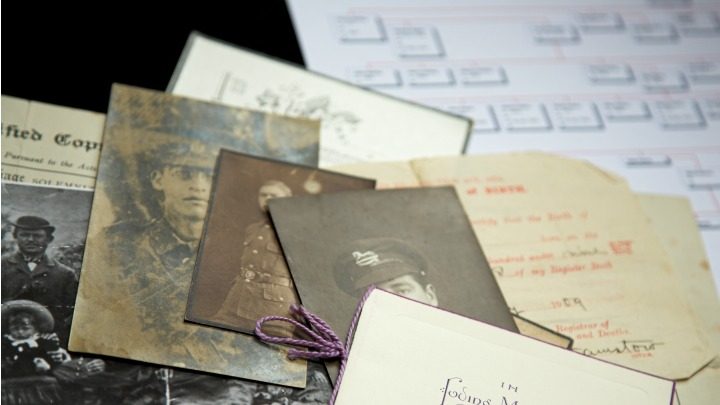 For many reasons you might want to ensure your story and that of your family is uncovered and preserved, but often the task is overwhelming.
The good news is finding family history doesn't have to involve browsing multiple ancestry sites.
The first step is to start your family tree. Your immediate family often holds the key to its commencement. If you have recorded the memories of your parents, your grandparents, your aunts, uncles, siblings, cousins and even your own memories you are well on your way to constructing your family tree.
It's amazing the specificity of the details you can gather just by talking to your relatives. You'll unearth things like individuals' nicknames, where family lived and even vital information relating to births, deaths and marriages that you might not have known about.
Find My Past has a really handy little questionnaire you can use to get started.
Once you've gathered as much information as you can from your family, look at your family photo albums and scrapbooks. You'll be searching for hard evidence to back up some of the claims (think birth certificates, school records, diaries, letters, boxes of memorabilia and even old photographs).
If you have members in your family who have served in the military, you can make contact with the relevant organisation (in Australia you can contact the National Archives) to access their registration, enlistment and service information.
You can also use the National Archives to trace information of family members who migrated to Australia during the 20th century.
When it comes to telling the stories of your family, searching one at a time is often the best approach. This allows you to effectively organise your research and increase productivity. If you try and tackle your entire family tree at once it can be overwhelming and you might lose enthusiasm.
If you aren't sure of how to 'connect the dots', there are a range of ways in which you can seek assistance.
A personal historian can work with you to tell your family story the way you would like it told. They can be brought on-board to interview you, your family and anyone else involved in your story and can either write the story for you or assist you in writing it.
Personal historians often have the skills and experience to conduct in-depth research to fill in the missing details in your family history. They can work with photographs and other documents and also know how best to preserve them.
Local organisations such as libraries, archives and historical societies are also helpful because they have specialised collections that relate to the local area — ideal if you know the region, town or suburb where your family lived or worked.
Don't forget that some churches, schools and even businesses might have information that is relevant to your family history.
Finally, be sure to duplicate copies of everything you have collected in relation to your family history and keep the original and a master copy in a safe place. You don't want to lose that information. Use the other copy as your 'research' copy.
There is such a thing as 'too much information' when it comes to family histories, so the question you need to ask yourself is 'would this story bring shame to my family'? If the answer is yes, the story might be best kept secret. However, overcoming adversity and developing resilience are the stories many families celebrate, and should be shared.
Have you ever traced your family history? What challenges did you encounter along the way?
Comments