Pop nearly faints at grandson's thoughtful gift years in the making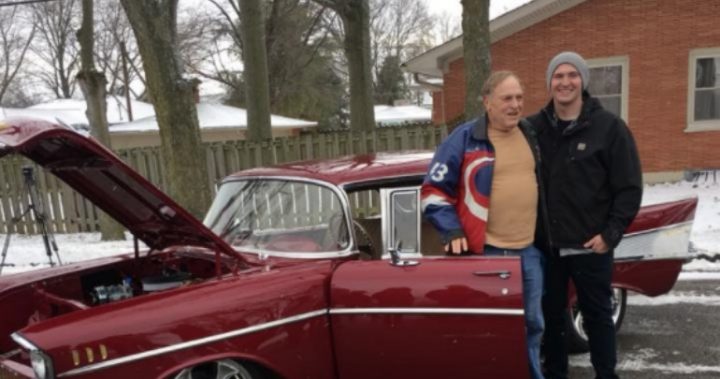 Millennials tend to get a pretty bad rap in the media, but Cam Dedman's story is proof that they're not all bad. In fact, his story is one that's melting hearts across the internet right now. 
The 28-year-old took to Facebook earlier this month to let his friends and family known of a sweet and heart-warming gift he gave to his beloved grandpa.
Fred Dedman had been a massive fan of his '57 Chevy, but it had been sitting in his garage, unused, since 1976. With his grandfather's 81st birthday looming, Cam decided that he was going to surprise him by giving the beloved vehicle a much-needed makeover.
Cam explained that he'd been planning the surprise for more than a year and that he worked extremely hard to pull the surprise off, doing much of the restoration work himself, based on ideas he'd picked up from his pop over the years. "This car has been setting in his garage since 1976," he wrote. "He's my best friend and truly deserves it. This was so hard to complete let alone do it without him knowing."
Ad. Article continues below.
While most people Cam's age would be saving for a holiday or a home, he said that he'd been saving to treat his grandfather to something truly special. "I saved up for years to do this even sold my personal car to help fund parts for the car," he said. "It all is worth it though for my Grandpa!"
Dedman told more of his story to Oklahoma's News 4, saying that his grandfather had actually owned the car since 1958, and used it to drive his growing family – including Cam's mother – around. "When I was little, he would always tell me, 'We're going to fix this up.' But he always put his family first, so he never had time to do it," Cam told the news channel. "I figured if I was going to do it, I was going to do it right."
Or course, Fred nearly "passed out" when he saw the car for the first time, as a video and photos of the big reveal uploaded to Facebook show. In the clip, a blind-folded Fred is helped by family members as they move him towards his present. He's told to take the blind-fold off and nearly falls over in disbelief at what he's seeing.
He can be seen crying as Cam cuddles him and wishes him a happy birthday. "I did this from the bottom of my heart for my grandpa," Cam said of his kind gesture. "Never expected so much positive feedback from so many others! Thank you everyone. I truly am grateful for the support and kindness received."
Ad. Article continues below.
People around the world quickly praised the 28-year-old, with many sharing his video across Facebook. One person wrote: "You are a very special person. Grandpa has good reason to be proud of you. You two have such a great bond. Great job on the car, but the reason behind it was exceptional."
Another comment read: "Lost both my grandfathers at 70 after they were WW2 veterans. You are a great man for carrying the torch with this. Extending the lineage of your family with children or gifts or memories or keepsakes is something special! Take care and all well wishes to you in life."
A third added: "On behalf of EVERY grandparent out there, who dreams about the car that got away along with our youth… God Bless you for this. Mine is a 1970 Road Runner… if I ever find it again, I know who I would trust with it."
Have you ever done something kind like this, or has someone presented you with an incredible gift?
Ad. Article continues below.
---
With Facebook removing news sites from your feeds we ask that you sign up for Starts at 60's emailers here. And to keep us on your wall, join some of our new Facebook groups and clubs:

News Junkies Club – Australia
News Junkies Club – USA 

See news on the change and links to all our other clubs and groups here.