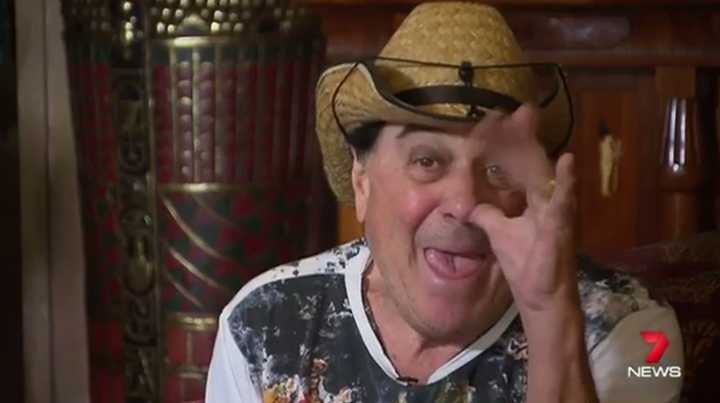 The media is has been awash for weeks with the news that our dearly loved Molly Meldrum could have become paralysed by a recent fall in Bangkok, but until now we did not know that he could have lost his arm in his recent accident.   According to media reports, Meldrum dislocated his shoulder in the fall and he says himself the damage was significant.
Molly, the energetic host of Countdown, the show that changed the music industry forever in the 70s and 80s, arrived back in his home this week after the accident to greet his little dog Ziggy.
At the same time, the soundtrack recorded for his recent TV mini series on Seven Molly has shot to number one in the album charts causing him much delight given the competition for the position.  His delight at beating out his old music sparring partner Elton John is enigmatic in this video. "At Number 10 is Elton John with his Album so… Maaa ma ma ma ma!" he said joyfully in this interview.
Molly Meldrum is back in Australia. https://t.co/HWqjMKSkel @NickMcCallum7 #Molly #7News https://t.co/ZxWWq0OyIt

— 7 News Sydney (@7NewsSydney) February 19, 2016
Seven's Molly miniseries has impressed the country in recent weeks, recording astronomical ratings during its Sunday night premiere of 2.6 million people across the country, beating runner up My Kitchen Rules by 400,000 viewers.
The ARIA album charts show Molly's success is greater than he thought, with his album outperforming more than just Elton John.  It is well outshooting other memorable bands and musicians from yesterday.
Have you enjoyed the trip along memory lane the Molly miniseries has brought?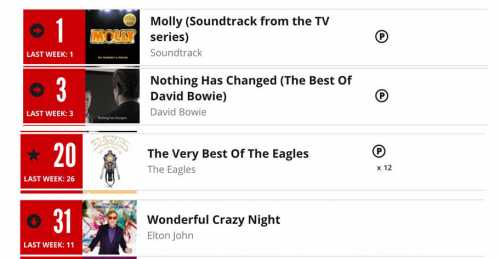 Comments